Equicom
Equicom Savings Bank, Inc. (EqB) is a thrift bank established in 2008. Equicom Savings Bank was the Philippines' leading credit card company and also the only card issuer which carried the four major global credit card brands – VISA, MasterCard, American Express and JCB. Its main office is in Makati Central Business District.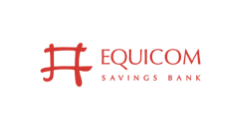 Equicom Savings Bank, Inc. (EqB)
6/F ODC International Plaza,
219 Salcedo Street, Legaspi Village,
Makati City 1229, Philippines
Description of Company
Equicom's products include Deposits, Credit, Debit and Prepaid Cards, Personal Loan, Salary Loan, Home Loan, and SME Business Loan. Their wide range of products and services are created for the continuous growth of their company and guarantee consistent services and customer satisfaction.
It has branches throughout Luzon, Visayas, and Mindanao. It has ATMs in all its branches and selected off-site locations. EqB cardholders can access over 9000 ATMs nationwide through its network affiliation with BancNet, MegaLink and Expressnet, and over 1 million VisaPlus ATMs worldwide.