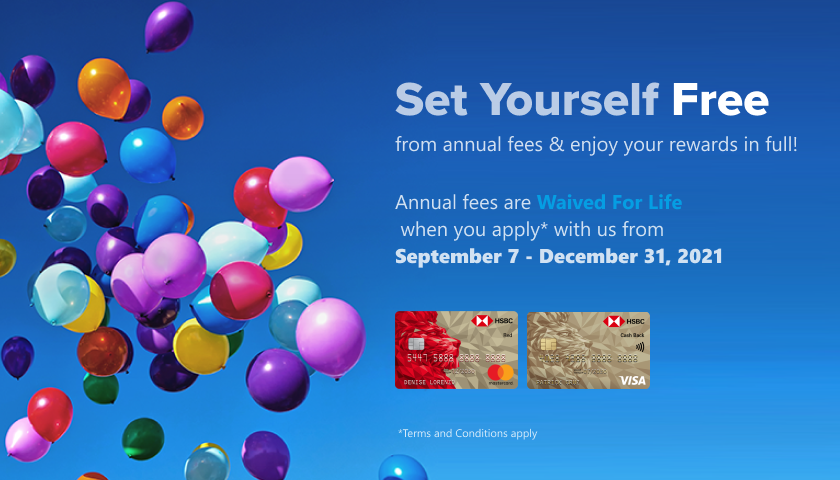 Set Yourself FREE from annual fees & enjoy your rewards in full!
If you're an active credit cardholder, now is the time to add an internationally recognized credit card to your wallet!
Annual Fees are WAIVED FOR LIFE when you apply & get approved for an HSBC Red Mastercard or Gold Visa cash back.
Terms & Conditions
Free Annual Fee for Life Online Credit Card Acquisition Promo
The Free Annual Fee for Life Online Acquisition Promo for HSBC Credit Card (the "Promo") shall run from September 7, 2021 to December 31, 2021 (the "Promo Period")
The Promo is open to individual applicants who apply for a new primary HSBC Red Mastercard or Gold Cash Back Visa ("HSBC Credit Card") who have no existing nor canceled HSBC credit cards (the "Qualified Cardholder").
Under this Promo, the Qualified Cardholder shall be entitled to waived annual fees for life on his/her primary HSBC Credit Card provided that the credit card application was made via www.hsbc.com.ph or any online channel during the Promo Period.
The free annual fee for life benefit is non-transferable, and cannot be converted or exchanged for cash, credit, benefit, advantage, or any property.
This offer cannot be availed of in conjunction with other ongoing HSBC credit card acquisition promos unless otherwise specified by HSBC.
All credit card applications shall be subject to HSBC's credit procedures, timely submission of completed application forms and all required supporting documents, and the HSBC credit card Terms and Conditions.
In case of dispute with respect to the Cardholder's eligibility, coverage of dates, fulfillment etc., HSBC's decision shall prevail. All questions or disputes regarding the Cardholder's eligibility for the Promo shall be resolved by HSBC.
Per DTI-FTEB Permit no. 126523 series of 2021.