Enhanced PhilHealth Benefits Packages For COVID-19 Patients: August 2021 Update
The Philippine Health Insurance Corporation (Philhealth) has enhanced its package benefits for its members and dependents amid the spread of COVID-19. This is to help affected Filipinos with their hospitalization expenses.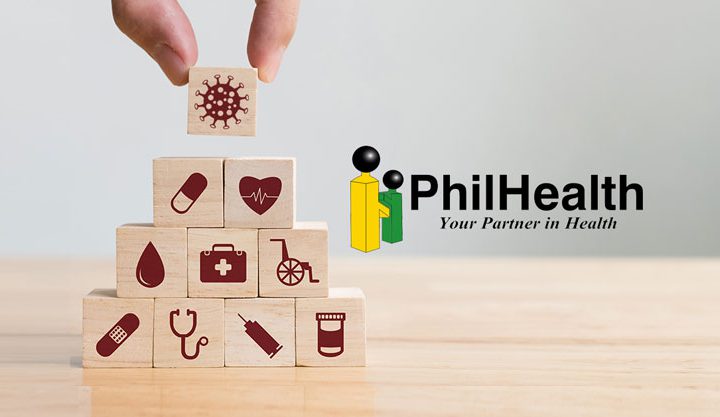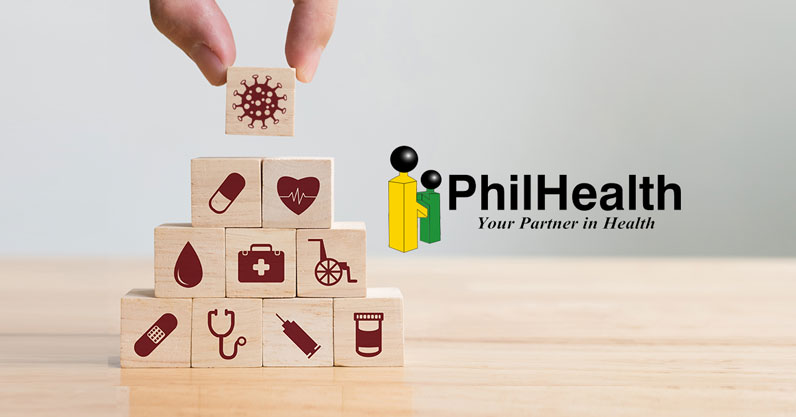 These are the enhanced PhilHealth benefits packages for COVID-19 patients you should know:
1. ER & Tent admission coverage
With cases at an all-time high and hospitals experiencing a surge in COVID-19 related admissions, PhilHealth has assured patients that those who are admitted in emergency rooms and tents within hospital compound pending availability of rooms will be covered.
In a new advisory released by PhilHealth:
patients, including those battling the coronavirus disease 2019 (Covid-19), admitted and managed in the ER due to lack of rooms, shall receive full benefits if the stay is at least 24 hours
2. Isolation Package
PhilHealth members who are mild and asymptomatic that need to undergo quarantine/isolation due to COVID-19 can avail of this isolation benefit package.
Known as the "COVID-19 Home Isolation Package" (CHIBP). this circular applies to:
"all claims for home isolation services filled by accredited PhilHealth isolation facilities, infirmaries, hospitals and Konsulta providers who have accomplished the necessary documentary requirements to provide the CHIBP,"
To be eligible for CHIBP, you must meet the social and critical criteria for home quarantine and are able to receive health support directly from your home.
PhilHealth said that only accredited facilities in areas identified as "surge areas" by the inter-agency task force on COVID-19 (IATF) can apply for re-accreditation as CHIBP providers until December this year. Patients covered by CHIBP should also be living in areas identified as high-risk.
Surge areas, as defined by PhilHealth, are those high-risk geographic areas declared by the IATF.
Corresponding reimbursement rate: P5,917 per claim.
These are the services covered by CHIBP: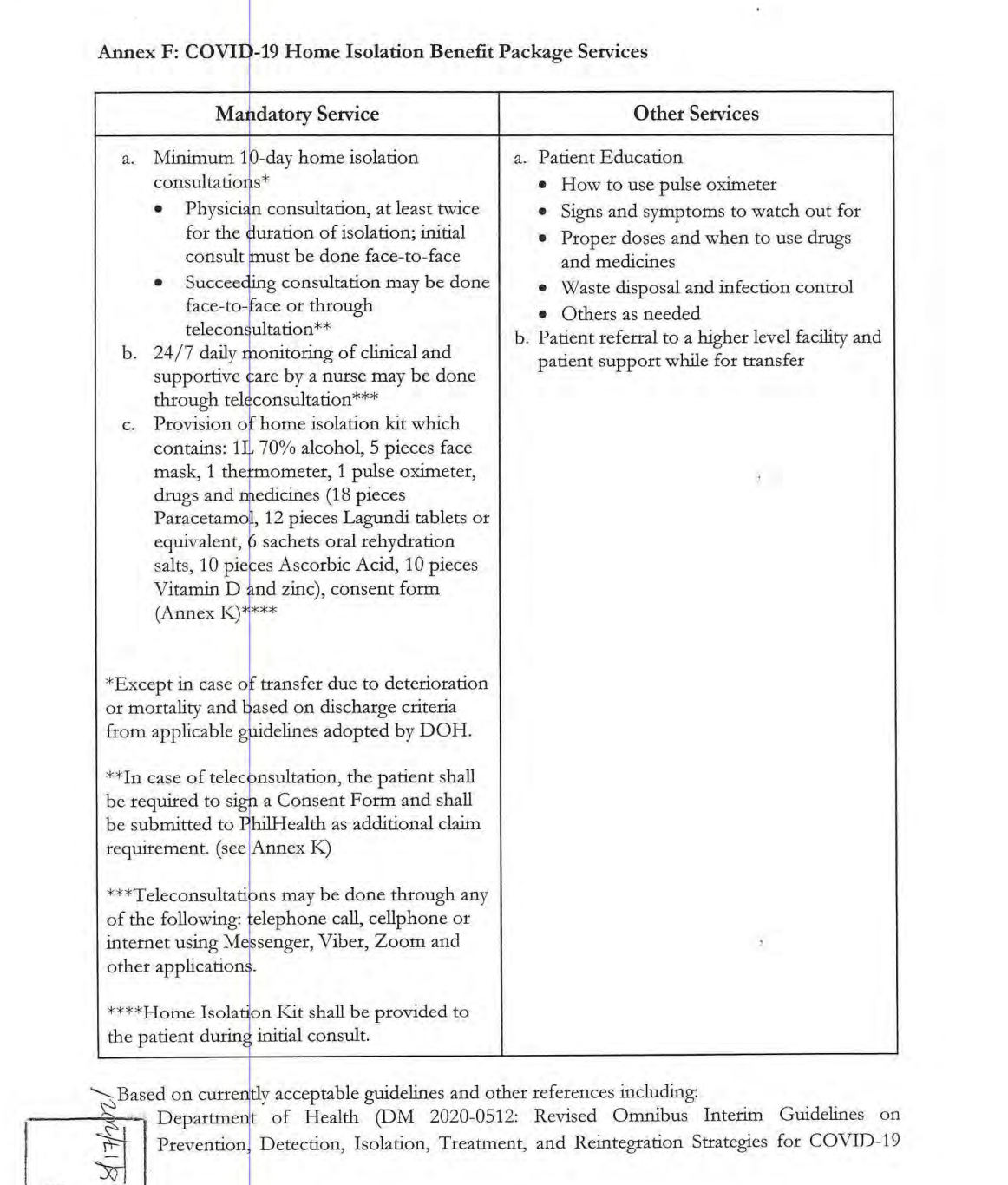 3. Existing Case Rate Package
If you are a COVID-positive patient diagnosed with other diseases like pneumonia (because of the causative agent such as the novel coronavirus) can take advantage of the PhilHealth packages for existing medical case rates.
Amount of benefit per disease:
Mild pneumonia: P43,997
Moderate pneumonia: P143,267
Severe pneumonia: P333,519
Critical pneumonia: P786,385
The intermediate package for previously managed as probable Covid-19 case but had negative reverse transcription-polymerase chain reaction test results are also covered amounting to PHP18,000 and PHP38,000 for moderate and severe/critical pneumonia, respectively.
Prepaid Health Card That Covers COVID-19
Did you know that there are prepaid health products that you can readily purchase such as prepaid health cards that provide COVID-19 coverage on top of other claims, without the need for screening and testing?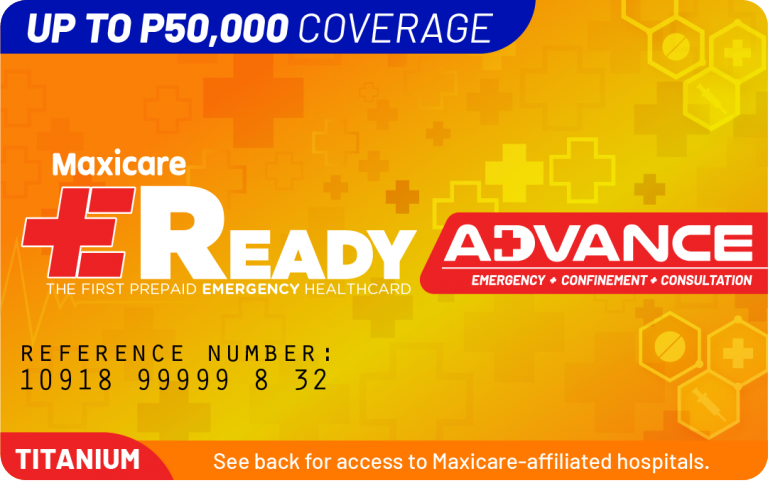 With Maxicare EReady Advance, you can get up to P50,000 in benefits to cover a multitude of fees incurred while a patient is being treated in the emergency room. On top of that, you can enjoy basic dental procedures at 20% discount in any Metro Dental clinic and 24/7 teleconsultation. All these benefits and more are included in the Maxicare EReady Advance prepaid card starting at P2.950 only, with one full year of coverage once activated.
To learn more, go to our Prepaid Health Card page: Affordable Prepaid Health Products For Every Budget. Or click the button below.