Why Travel Junkies Should Get a Higher-Tier Credit Card
5 min read
If there's one thing as exhilarating as being a globetrotter, it is definitely having high-tier credit card in your pocket. These credit cards—with some of them bearing the words gold, platinum, and black, among others—are packed with tons of features not present in your entry-level credit cards. While they come with stellar features only fit for those who deserve the good life, they don't come in cheap. If you're constantly on the move and you are looking for a credit card that suits you best, here are the main reasons why you should keep an eye out for top tier credit cards.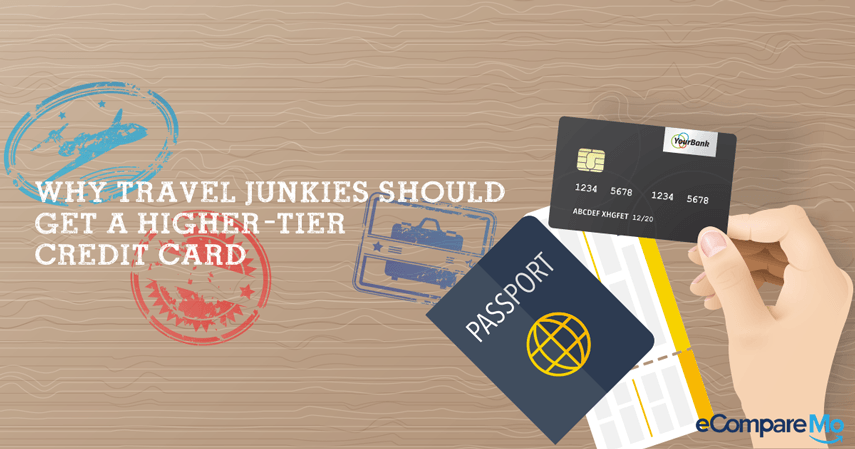 What are top tier credit cards?
When you're comparing credit cards and you see the words gold, platinum, and other colors of elegance and luxury, you may think these are the cards are out of your reach and only reserved for executives and other bigshots who rake in huge amounts of money per month. While these stereotype existing are unfounded, their requirements for top-tier credit cards are a bit steep, particularly when it comes to income.
Some credit cards have minimum annual salary requirements of PHP360,000 at the minimum, and for the average working Filipino, this is a bit too high to gun for. According to the 2013 report of the World Bank, the average salary in the Philippines is USD 2,577.32 (PHP119,625), which is less than half of the lowest annual salary required for elite credit cards. With this average, a lot of Filipinos may not be able to meet the requirements, those who are into serious traveling should consider getting these—and here are the reasons why.
Miles!
Who can say no to miles? After all, you can earn airline miles that can be used to fly via any airline to any destination in the world. If you're serious about racking up serious miles that can be used to travel more, then owning a top-tier credit card is your best bet. Some of them have a really low purchase per mile exchange rate, while others have perks like never expiring points so you can just hoard and hoard until you hit a number in your head. And you know what makes miles more exciting? You miles are as good as cash and you can redeem them for hotel accommodation, resort booking, travel packages, and so much more. Think of top-tier credit card miles as the leaner, better version of reward points system offered by regular cards.
Hotel freebies and discounts
Scouting for a place to stay during your travels can be a really strenuous task, especially if you are picky with the perks and amenities offered by the hotels. If you want the best accommodation bonuses for your little trips outside the country, then elite credit cards are your best friend in getting a VIP pass on hotels. From free hotel room upgrades to hassle-free booking to complimentary dinner and drinks when you arrive, these credit cards will make sure that you'll have a good night's rest at the world's top hotels.
Premier concierge service
Some people love going DIY with their travels; there is a certain rush in the uncertainty of looking for the best features offered by your destination. However, are you willing to throw away time just to experience the thrill of doing things on your own? This is where concierge service comes in, and luckily for top-tier credit cards, they are willing to take some tasks off your hands. Want to book a yacht tour in Dubai? Just phone your credit card provider's concierge hotline. Thinking of getting balcony seats a theater play for the best view. You're merely a phone call away. When you own a high caliber credit card, you can simply call their concierge hotline and you're all set.
Travel insurance
You will never know when unfortunate incidents will happen, and it pays to be always insured whenever you hop on a plane. Since these cards cater to those who are frequently on the road, having a credit card alone is as good as carrying a high-class travel insurance with you. Aside from premium travel insurance coverage, you are also protected in events such as delayed and cancelled flights, loss of passport and other important travel documents, missing baggage, and so much more. With elite credit cards, you can take your mind off the worries brought by trotting the globe and focus on the fun part instead.
Foreign transaction convenience
If you are going to use a regular credit card whenever you go out of the country to do some shopping, you will definitely be surprised by the hefty amount of foreign transaction fees billed on your card, on top of your purchases, of course. With top-tier credit cards, you can no longer worry about accruing foreign transaction fees for every swipe because most of them waive the said fee already, giving you more freedom to use your cards out of the country. With an elite credit card, you are not just giving yourself the convenience of cashless shopping, you are also getting more bang for your buck especially if you are looking for a more budget-conscious way to enjoy your vacation.
Free airport longue access
Have you ever had a layover so long you have to stay on the crowded parts of the airport just to kill time? If you want to avoid the hustle and bustle of the airport and instead stay at a VIP lounge while partaking on a delectable selection of gourmet food and drinks, then getting an elite credit card is as good as getting a premier pass to most airport lounges in the world. Aside from a wide assortment of food and drinks to help you let time pass by while you're waiting, getting a VIP pass on airport lounges will also give you tons of perks like free massage, free use of their facilities, and discounts on their business center facilities. Make your airport a comfortable extension of your home with a top-tier credit card.
Credit cards are your best friend whenever you travel out of the country, but VIP credit cards are taking it a step higher and giving you the treatment you deserve. If you want to make sure you're treated like a king or queen whenever you go out and explore the world, then a top-tier credit card is definitely the best one for you.