UnionBank Credit Card Promos 2021: Special Welcome Gifts & More!
4 min read
Get more than just rewards and rebates with your new UnionBank Credit Card!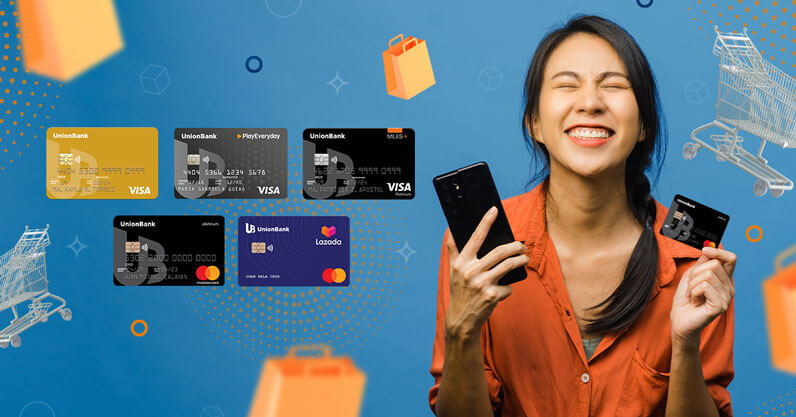 Aside from all the perks that you can get when you use your newly approved UnionBank credit card on your daily purchases, a whole lot more awaits you from the get-go. From welcome gifts to exclusive travel discounts, you are in for a huge treat!
Enjoy these ongoing discounts and promos using your UnionBank credit card
If you don't have your own UnionBank Credit Card yet, now's the perfect time to get your hands on one and get to experience these perks and discounts.
Once you get approved for a UnionBank credit card, you'll automatically be entitled to amazing welcome gifts, which are as follows:
UnionBank Visa Credit Cards: Get you up to P5,000 worth of S&R e-vouchers. Promo runs until Septeber 30, 2021.
UnionBank Lazada Credit Mastercard: Get P5,0000 Lazada Credit welcome gift with a minimum spend of P20k within 60 days of approval. Until June 30, 2022.
UnionBank Cashback MasterCard: Get a P500 Lazada voucher when you activate your newly approved card through UnionBank Online
Is your wanderlust creeping in after being holed in for a year? Now is the time to cave in! Once it's safe to get a taste of adventure and the great outdoors, these special hotel discounts will be there to meet you:
Special room rate and 10% off on food & beverage at Acacia Hotel Davao.
Up to 10% cashback on accommodation bookings at Booking.com.
Additional 8% off on hotel bookings at Agoda wherever your feet take you.
Discounted room rates, complimentary food and drinks, and more at Misibis Bay Resort.
Discounted room rate at Astoria Hotels, for as low as P3,000.
Up to 35% discount at Rancho Bernardo Luxury Villas and Resort, plus welcome refreshments and complimentary use of resort facilities.
Get the best out of life with these discounts. Treat yourself, you deserve it.
Never go out of style with a card that works for you no matter what your style of living is. Here are some perks you can get with your UnionBank credit card:
The list runs long. Don't blink or else you'll miss great rewards.
Pay in 0% installment when you shop at Lazer Music.
24/7 unlimited access to licensed doctors at KonsultaMD.
Avail of 0% Installment plus exclusive gadget deals at Urban Gadgets.
FREE treats for your family at Waltermart.
P200 OFF at PICK.A.ROO.
0% Installment on home appliances at Anson's.
Up to P300 OFF at PureGo Online Grocery.
Avail of 0% installment on Smartphones at Techbox.
20% off on all Ibarra timepieces when you enter promo code MCPH60 upon check out.
15% shopping discount on Mondays at Lazada.
10% OFF at The Nest Genie.
0% interest installment on regular-priced Crate and Barrel items for a minimum spend of P20,000 for 12 months term.
P200 OFF + Free Delivery at Pushkart.ph.
Up to 40% OFF and Buy Now Pay Later at Ogawa.
Free P1,000 Home Depot Gift Certificate for a minimum single receipt purchase of P25,000 at 0% Installment on 3- or 6-months term.
0% Installment at Ace Hardware.
Up to 15% rebates from 150+ online merchants when you shop at https://rebates.unionbankph.com.
Gadget upgrade at 0% installment plus exclusive deals at Aerophone.
A chance to win P 10,000 worth of SM gift passes when you shop at The SM Store.
Up to 30% OFF on shipping at ShippingCart.
A chance to win up to P 100,000 worth of gift certificate for your shopping spree at Robinson's Department Store.
Up to 5x GetGo points with UnionBank CEB GetGo Credit Card.
Up to 15% Off on toys, baby products, shoes and more at KidsCompanyPH.
P1,000 savings on world-renowned beauty brands at BFF Manila.
15% discount at FlexiSpot!
FREE ₱50 Monthly Shipping at Lazada
FREE ₱250 Mega Sale Discount Vouchers at Lazada
20% off at Zalora.
20% off on your laboratory tests and other health related concerns when you book via zennya.
Free counseling session at MyGolana.
Up to 10% off on Maria Health Prepaid Cards.
15% Off on flower bouquets and more at Flowerstore.ph
P 100 OFF at Minimart.ph with a minimum spend of P1,000 at www.minimart.ph using the promo code UB100.
Up to P300 Off at MetroMart.
UNLIMITED medical consultation at Medgate.
0% Interest on a 3 months installment term for a minimum single receipt purchase of P5,000 at The SM Store.
From leisure activities to home appliances to health care essentials, there's something for you here.
Delicious food doesn't have to be pricey! With your UnionBank credit card, you can fill up your tummy, and your wallet, with meals and deals all in one! See the delightful dining promos below:
FREE Cheeseburger at McDonald's Drive-Thru for a minimum purchase of P 250 at participating stores.
15% off on total bill for a minimum purchase of P3,000 at Ketos of Manila.
10% off on total bill for a minimum purchase of P2,500 at www.eatslifemanila.com using the code EATSUBC10.
Did anything cause a spark within? Take that as your sign to apply for a new UnionBank Credit card now!
Click this link to jumpstart your UnionBank Credit Card Application.