The Top Life Insurance Companies In The Philippines
5 min read
Last November 8, 2018, the Insurance Commission released the rankings of the top life insurance companies in the Philippines in terms of premium income, assets, and net worth earned in 2017.
Life insurance is an investment in the future. It is a way of ensuring that our loved ones are taken care of even when we are no longer with them. Seeing as it's an investment, we need to think long and hard about which life insurance company offers a policy that fits us the best.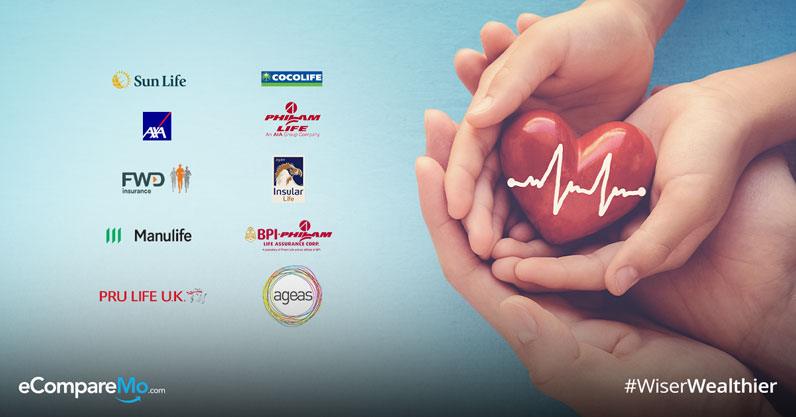 In this post, we are taking a closer look into the companies that, according to the Insurance Commissions are the top life insurance companies in the Philippines. Get to know them and their products and see which one is the right investment for you.
What is Life Insurance?
Life insurance is a financial assistance contract between the insurance provider and individual. The insured or policyholder agrees to regularly pay the provider for a certain period in exchange for the "insurance" that at the policyholder's death, the beneficiaries listed will be given a sum of money (usually tax-free) as signed on the contract.
Over time, insurance providers have come up with different life insurance packages, not just limited to death benefits. Some of these top-up benefits may include the likes of a mutual fund, or college fund.
The idea of "life insurance" goes as far back as ancient Rome. It started with "burial clubs" covering funeral costs for its members and providing financial assistance to surviving relatives or dependents. It was a good way to provide some form of 'insurance' to members and their families, at a time when the outlook for longevity was bleak due to crimes, wars, famine, and incurable diseases.
(Read: These Are The Top 10 Deadliest Diseases In The Philippines Right Now)
Top Life Insurance Companies in the Philippines
In terms of premium income in 2017
1. Sun Life of Canada
Sun Life of Canada in the Philippines earned the biggest trust of the Filipinos, and its numbers back that up.
They got the number one spot for earning the highest premium income in 2017 among insurance companies, at P32.11 billion. They also got the highest recorded new business annual premium equivalent, amounting to P6.64 billion. Their net income by the end of 2017 beat all the other insurance providers at P7.03 billion.
Two of their most popular products are the Sun Fit and Well for Traditional Life Insurance, and Sun Maxilink (investment-linkedin life plan) for Variable Life Insurance.
We asked Sun Life Financial Advisor and one-man band musician Mikki Gozon on what makes Sun Life number one, for representatives like him.
"It's a different culture with Sun Life. Yes, we become an advisor to earn but at the same time, we learn a lot about finances and how to handle it properly [that is not taught in our] educational system. [We also] teach this to people and make their hard-earned money [grow]. It's a symbiotic relationship. We help each other to grow our wealth — in mind and in our bank accounts," he said.
He added that being a Sun Life Advisor also helped him personally to pursue his passion for music.
"As a musician, we don't have anything besides our TF [talent fee] — no HMOs, health plan… [nothing]. Madalang din ang gigs especially if you're an artist, not a variety act. Maliit pa TF. We are also exposed sa maraming vices like alcohol, gambling, etc. na umuubos sa aming pera. There's a lot of older musicians na walang nangyayari nabebenta lahat ng instruments when [something] happens," said Gozon.
2. Philippine AXA Life lnsurance Corporation (AXA) Philippines
AXA Philippines is owned by the AXA Group based in France, GT Capital Holdings, Inc. (GT Capital), "a leading listed conglomerate in the Philippines, and Metropolitan Bank and Trust Company (Metrobank). In 2018, they earned P3 billion worth of consolidated net income, from life and general insurance.
3. BPI-Philam Life Assurance Corp., Inc. (BPI-Philam)
Bancassurance is what it's called, when a bank and an insurance company team up in selling insurance products to the bank's market.
BPI-Philam is the alliance between PhilamLife and Bank of the Philippine Islands (BPI), one being the largest insurance company in the country and the leading bank in the Philippines. BPl-Philam earned P20.33 billion in premium income collected for 2017. They are the number one bancassurance company in the Philippines.
4. Philippine American Life & General lnsurance Co., (PhilamLife)
Its partnership with BPI notwithstanding, PhilamLife alone has garnered one of the biggest earnings for life insurance companies in the 2017 report. It came fourth (4th) at P19.90 billion worth of premium income.
5. Pru Life lnsurance Corporation of U.K. (Pru Life U.K.)
Pru Life pioneered and currently tops unit-linked or investment-linked life insurance products. They also happen to be one of the trusted insurance companies, with P19.22 billion premium income in 2017.
6. lnsular Life Assurance Company, Ltd., or lnsular Life
Insular Life earned P4.02 billion on net income for 2017. Some of their big offerings is VUL Investment Funds, retirement, and education.
7. Manufacturers Life lnsurance Company (Phils.), lnc. or Manulife Philippine
Manulife's net income for 2017 was 3.07 billion, making them one of the biggest insurance providers in the country. Aside from their personal protection life insurance plans, education, health, and retirement, they also offer wealth plans.
8. United Coconut Planters Life Assurance Corporation
Included among the country's insurance companies with the highest net worth for 2017 is United Coconut Planters Life Assurance Corporation, who earned a total of P7.56 billion.
(Read: 6 Great Investments Millennials Should Make Now)
Insurance companies that are "new" but worth checking out
9. FWD Life lnsurance Corporation
New to the industry, but FWD Life lnsurance earned a total new business annual premium of P1.64 billion. This earned them the 11th spot on the list.
10.East West Ageas Life lnsurance Corporation
Another insurance company that is new to the game, they earned recognition for the Life Insurance Companies ranking after they earned P464.47 million of total new business annual premium.