Pag-IBIG Housing Loan Application: A New Homeowner Shares What The Process Is Like
14 min read
In this post, we show a step-by-step guide for all the processes that applicants will go through when applying for a Pag-IBIG Housing Loan—including the requirements, application turnaround time, and loan amount.
We've also listed down the types of housing loans, requirements for applicants, and how the process is like.
We also share how to compute your amortization. Alternatively, you may use a Pag-IBIG housing loan calculator.
We all dream of having a house to call our own. Whether it's a two-floor unit in a quaint neighborhood or a condo unit amid a bustling business district, having a property that you can call home is a feat that's hard to come by, especially these days.
Funding your dream house is not easy as it often seems most of the available housing properties in the Philippines cost millions of pesos.
Luckily, there are ways you can acquire your own abode even without ready cash on hand. One of them is through a Pag-IBIG housing loan.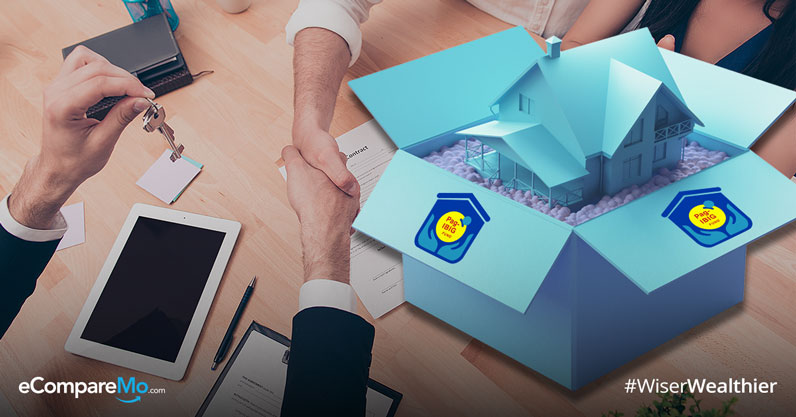 This type of financial assistance is made possible by the Pag-IBIG Fund, a government agency that extends financial help to Filipinos.
Start your journey toward being a homeowner today. Refer to this guide for the basics of a housing loan application.
What are the types of Pag-IBIG Housing Loans?
There are three kinds of loan you can avail of, depending on your purpose. They are the following:
1. Acquired Assets Loan
These are homes from Pag-IBIG Housing Loan borrowers that PAG-IBIG acquired because the borrowers were not able to settle their loan repayments.
The process for Acquired Assets loan applicants goes like this:
Go to the Pag-IBIG website, and choose from Pag-IBIG's long list of Acquired Assets.
Choose the property you want.
Attend an auction to bid for this property.
After a loan applicant has secured a property via auction, they then submit the require documents for Pag-IBIG Housing Loan approval.
2. End-User Loan
This is for applicants who want a property that is NOT a Pag-IBIG Acquired Asset, or those that want to build their very own home. Under the end-user loan, borrowers can apply for up to ₱6 million.
3. Affordable Housing Loan
This offers lower maximum loan amounts. You may apply for this type of Pag-IBIG loan if you meet either of the following two income brackets:
Bracket A
Applicants with a gross monthly income of ₱14,000 and below. They can borrow a maximum loan amount of ₱400,000, payable for up to five (5) years.
Bracket B
For applicants with a gross monthly income of ₱17,000 and below. They can borrow a maximum loan amount of ₱750,000, payable for up to ten (10) years.
Who are eligible to apply for a Pag-IBIG housing loan?
Before starting your loan with Pag-IBIG housing, let's identify who are the qualified borrowers for a housing loan application:
Applicants should be an active member of the Pag-IBIG Fund with at least 24 months of contributions.
In case the Pag-IBIG member does not have the required number of monthly contributions, he/she will be allowed to make a housing loan application provided that they have been contributing to Pag-IBIG Fund for at least 12 months. Being a contributing member for at least one year will allow them to make a lumpsum payment to meet the required contribution rate.
The loan applicant should not be more than 65 years old by the time of the loan application. Additionally, he/she should not more than 70 years old when the loan reaches its maturity.
The loan applicant should not have an outstanding Pag-IBIG housing loan, whether they are the principal or co-borrower.
The loan applicant should pass the background check of the Pag-IBIG Fund. The agency will check your credit and employment.
The loan applicant should attend the seminar about housing loan application. The seminar will discuss the detailed steps on how to apply for the housing loan and a few points that will make the loan application easier.
What are the requirements for a Pag-IBIG housing loan?
Any kind of loan application will require several documents to ensure that an applicant is eligible for the loan application.
For this one, the set of requirements will depend on the type of housing loan and profile of the loan applicant. Here's a breakdown of the requirements for each Pag-IBIG housing loan applicant category.
 For employed applicants
Certificate of Employment and Compensation (notarized and employer's format)
If government employee, at least a one-month payslip should be provided (within three months preceding the date of application)
A copy of the latest ITR of the year prior to the year of loan application. Attached here is a W2 form that should be stamped and received by the BIR/Certificate of Tax Withheld or BIR Form 2316
For self-employed or with another source of income
Proof of income, such as ITR, official receipt of tax payment from a bank, and audited financial statements
In case income comes from foreign pensions or remittances, a copy of bank statements or passbook is needed. These documents should be from the last 12 months.
In case income comes from rental payments, a copy of lease of contract and declaration should be provided.
Certified true copy of transport franchise, which is issued by a government agency (ex. LGU for tricycles and LTFRB for PUVs)
Copy of commission vouchers (for the last 12 months) that shows the issuer's name and contact details
Copy of certificate of engagement that is issued by the owner of the business
Other documents that will authenticate the source of income of the loan applicant
For OFW applicants
A photocopy of employment contract (should be in the English language)
An original copy of employer's certificate of income (should be in the English language). In case submitted in photocopy, it should be verified by a Pag-IBIG Fund information officer in the country where the loan applicant works.
Other documents that serve as a proof of income of the loan applicant
How long does a Pag-IBIG housing loan application take?
Sandy *, a marketing professional who recently secured her Authorization to Move in from Pag-IBIG, shares with eCompareMo how the entire process is like. First, here are the steps to take:
1. Loan application
Follow below steps and tips on how to apply:
Visit the website of Pag-IBIG under Acquired Assets, and look for properties
In this case, Sandy checked properties near her hometown in Laguna.
If you've found a property online, get the address and code and schedule an ocular visit to the location. This is to make sure the place is in good condition.

Tip: Get an unoccupied property so it's easier. If it's unoccupied, there are less chances of conflict.
Tip 2: According to Pag-IBIG, "Acquired Properties are being sold on an 'AS IS, WHERE IS' basis. Meaning, you will get the property with all the existing flaws or conditions. This is why it's important to do an inspection or ocular visit on the property before you start applying for it.
"In my case, it was secured by the property management, but someone made a forced entry. So I called for Pag-IBIG assistance for them to give the notice to vacate the property," Sandy explained.

Get the details of your chosen property/ies such as the code and address, and contact the number provided under the directory.
Go to the nearest Pag-IBIG main office.
Note: If the property you want is under Pag-IBIG Acquired Assets, you will need to participate in an auction. The Pag-IBIG representative will tell you the schedule for auction, or you can see it on the website under the Acquired Assets page: http://www.pagibigfund.gov.ph/AA/search.aspx
Go to the Acquired Asset department and ask if they still have a slot for you to bid for the property you want.
Tip: Sandy gave us her own formula for getting the highest bid: "The starting bid (amount) will come from the base price of the total value of the property. In my case, the total property was worth around ₱856,350. Then I bidded 10% on top of the ₱840,000, so the value went up to ₱941,985. Then I got another 10% from the ₱900,000, so I bidded a total of ₱94,198.50. After I won the auction, the amount was taken as my down payment for the property."
You will need to pay ₱1,000 for the slot/property reservation fee. This is non-refundable.
(Read : 5 Important Things To Look For When Buying Your First Home In The Philippines)
2. Attend an auction
This is the exact process that Sandy went through during the auction in February 2018. She got approved and got approved for the loan in July 2018.
The first process is the seminar. You will be briefed on how the auction works. It started at around 9 AM and ended around 1 PM. In Sandy's case, the officials started the seminar on time.
"We were given an envelope for the bidding amount. Inside, there's a paper you need to fill out with your bid offering," she shared.
You'll be given an hour to wait for the bidding to start. Whether you're paying in cash or Manager's Check, you need to put the full amount of your bid inside the envelope.
After submitting the envelope with the money, the officials counted the money in front of bidders. And then the auction started.
The facilitators flashed an Excel file on the projector, which contianed the list of public auction properties. They then opened the box with the envelopes of bidders. This looked like a transparent ballot box.
The panel was made up of five people: a combination of Pag-IBIG officers, two lawyers, one finance officer, and one legal officer.
The counting of bidder's offers started. They got one envelope each time, and they announced the amount and for which property it's bidding for. After that, they wrote the name down under each property location on the Excel file projected onscreen.
So if someone is also bidding for your property, they'd also announce the amount. You will see right away how many people are bidding for the property you are applying for, and if you have an advantage in terms of amount offered, or not. The one with the highest bid will win the auction for that property.
After counting all the envelopes and money from bidders, they announce the winning bid.
Tip: "This is the tricky part of bidding," Sandy notes. "I suggest you go for 10% addition from the property's original value (refer to above formula), but not more than that, because that will also be your down payment. Make sure you can afford the amount you're bidding for."
The winners will be verified by the panel
After verification, which only takes a few minutes, the auction organizer will announce the winners based on the bid tally sheet.
The winners will be asked to stay and get their envelopes with the money/cash. Those who did not win in the bidding will get their money or down payments back.
The winners were asked to fill up a form, as a reservation for the property/house.
They will give you the form for requirements, to be fulfilled within 30 days. If not, the reservation will be forfeited, and your money or down payment will not be returned.
As for Sandy, "I completed mine within one week. It's easy to complete the requirements."
Note: There are people who do not get approved, even if they won in the bidding. This may be because:
They submitted incomplete requirements
Issues with the documents. For example, if a document is not notarized, issues in legality, etc.
There could be other possible reasons. Always remember to verify the documents and submit them on time.
Remember, you cannot get your down payment back if your Pag-IBIG Housing Loan was not approved. Sandy assures us though: "So far, I haven't met or heard anyone get declined. As long as the documents are submitted within 30 days"
3.  Submission of loan requirements
This is when you'll submit your Pag-IBIG housing loan application form and other required documents. The processing fee is ₱1,000, to be paid at the Pag-IBIG main office cashier.
Tip:  Pag-IBIG accepts individual submission of documents. To save time and money, submit all your documents at once.
After submitting the complete documents, they will give you the Notice of Award (NOA). The house is already awarded to and reserved for you.
"You can get the NOA even without submitting the complete requirements yet. But what I did was complete the requirements within 7 to 10 days, so I won't waste time."
An officer told Sandy to wait for three months, for her housing loan to be approved.
Here's the timeline of our subject's application for a Pag-IBIG housing loan:
February 2018. Property bidding, and submission of complete documents
March 2018. Character Investigation (CI) by Pag-IBIG officers. Visited the workplace.
July 2018. Provided with the Notice of Approval (NOA) and Authorization to Move-in
"In total, it took me six months. Three months for processing, and another three months waiting for approval."
Tip: You can call Pag-IBIG to follow up on the status of your housing loan application within the three-month wait period.
You will receive an NOA from Pag-IBIG via SMS. "I was told I need to go to the Pag-IBIG office within five days to sign some papers and get the Authorization to Move-in papers and property title—Photocopy, notarized. If not, my loan will be forfeited.
"I went there on the fourth day after they texted me. It was a Thursday. I paid around ₱6,562.20 for Incidental Expenses, e.g., fire insurance, etc.," Sandy recalls.
"When I got to the Pag-IBIG Mandaluyong Office, I first went to the Acquired Assets office, located at the seventh floor. This is where I needed to go for the signing of documents. I was asked to photocopy all the documents and pay for the Incidental Expenses. It took me one whole day. I was there from 9 AM and finished around 3:30 PM," Sandy shares.
Afterwards, the officer gave her the Authorization to Move-in documents, property title, etc. She was then asked to attend a 10-minute seminar on the same day.
"There were only five of us in the room," recalls Sandy. "In this seminar, the Pag-IBIG officer will teach you about monthly amortization payments such as where to pay. They would also explain the possibilities of illegal settlers in the property. With their as-is where-is rule, this means you will be the one to get them out of the property."
(Read : INFOGRAPHIC: House Vs. Condo Vs. Rental In The Philippines)
Tip: Before you even start to bid or apply, make sure the property you want is unoccupied and secured by property management. On the Pag-IBIG website, there is a tag whether the property is occupied or unoccupied. But you also must do due diligence on your part. This means you really need to visit the location to know for sure.
"In my case, there was said to be a 'landlord' in the property I wanted. So I talked to the person who lived there and told the family about the situation. They've been there for only five (5) days.
"They gave me the number of landlord and I called her. She gave me the name of the real owner as she is only the middleman. I was told to show my authority to move in on Facebook, but I declined," said Sandy.
"Instead, I gave the renters two weeks to move out, and they obliged. Because if they did not, I will report back to Pag-IBIG office and their legal department will take care of the problem. This is the advantage of getting a 'Secured' property from Pag-IBIG because you have assistance," she advises.
4. Loan repayment
"I needed to pay my first monthly amortization on August 26, 2018. It would cost me ₱6,400 a month for 20 years. I was advised that if I could pay early, I need to do an upfront payment, i.e., ₱10,000 a month with no fees. This would automatically reduce my loan tenure. I also have the lump sum if I have enough money."
Tip: You may also use the Pag-IBIG Housing Loan Affordability Calculator found on their website.
Not having enough cash should not be a hindrance in getting your desired home. Fortunately, there are many alternative housing options, such as Pag-IBIG acquired assets, where units are offered at a cheaper price. Easier amortization programs help property buyers to afford their monthly dues as well.
Applying for a Pag-IBIG housing loan can be a daunting task since you need to prepare several documents. However, with the help of government fincancing agencies such as Pag-IBIG, financing your dream house can become a reality. With reports from Leah Ramos