Meet The Rich Men And Women Who Bankrolled Presidential Candidates For The May 2016 Elections
7 min read
The week opened with nothing short of explosive news. Aside from Vice President Leni Robredo announcing her resignation from her post as Housing and Urban Development Coordinating Council (HUDCC) chair, the Philippine Center for Investigative Journalism (PCIJ) dropped a truth bomb on the financial backers of President Rodrigo Duterte during his campaign for the highest post in the land.
The President initially admitted that he was cash-strapped if not for the "Emilio Aguinaldo" donations as well as an "anonymous" Chinese donor greasing his political ads. But the PCIJ report revealed that his campaign was well funded by big businesses and mining firms who allegedly have vested interests in their move to fund a certain candidate.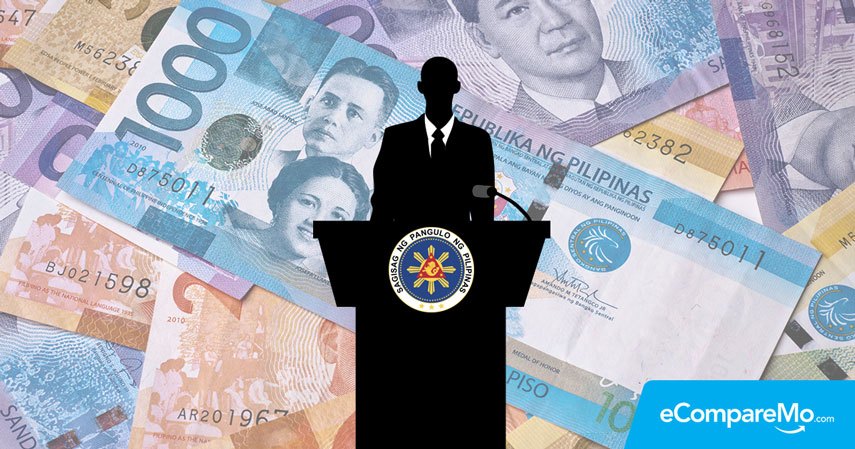 The people who financed his presidential bid with P5 million and up each composed almost 90 percent of his P375-million campaign fund.
To be fair, the PCIJ also released a list of top campaign donors of the other presidential bets in the last elections. Here, eCompareMo takes a look at the persons behind the names and their actual contributions.
Rodrigo Duterte
Antonio Floirendo Jr., P75 million
Son of the late banana magnate of Davao. The representative from Davao del Norte is a major stockholder in Anflo Management and Investment Corporation (ANFLOCOR), a business with interests in agriculture, trading, realty, hotel, financing, among others. This includes Floirendo's TADECO, one of the biggest suppliers of bananas in the world.
Lorenzo Te Jr., P30 million
Along with Duterte and other donors, Te is one of the major stockholders of Honda Cars Davao. He is listed in the Davao City Chamber of Commerce and Industry as the official representative and general manager of the dealership.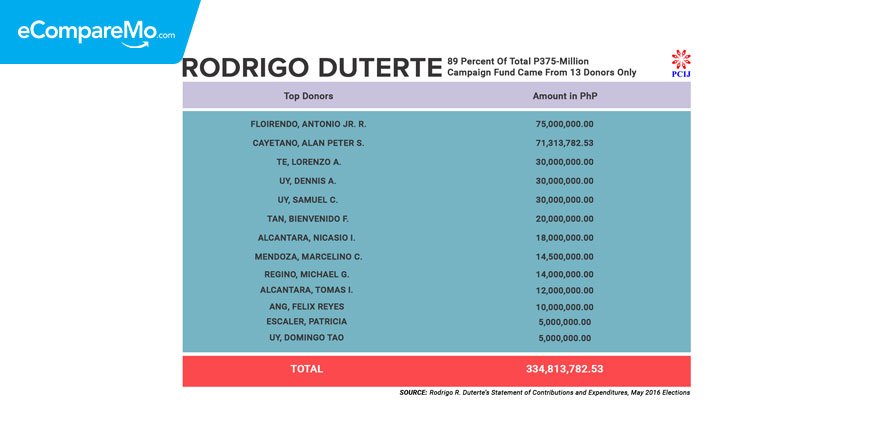 Dennis Uy, P30 million
It seems like Dennis Uy's investment in President Duterte's bid paid off last July when he was appointed as the Presidential adviser for sports. Uy is currently the president and CEO of Phoenix Petroleum. Along with his wife, Cherylyn, they donated a total of P31 million to team Duterte alone.
Samuel Uy, P30 million
The businessman from Davao is a known supplier who has stakes in DIMDI Center and DIMIDI Builders Center. They supplied electronic items like copiers, air conditioners, televisions, and other electronic equipment to Davao's government offices. Uy also owns the New Davao Matina Gallera, the biggest cockpit in the province.
Mar Roxas
Judy Araneta-Roxas, P110 million
There is no greater love than mother's love, and Judy Araneta-Roxas proved this when she bankrolled his son's bid for presidency. Wife of the late senator Gerry Roxas, Judy serves as the vice chairman of the Araneta Group, a holding company that has stakes in leisure, entertainment, hotel and restaurant, and beauty pageant industry.
Alfonso Umali Jr., P72.3 million
The former governor of Oriental Mindoro served as one of the staunchest political allies of Roxas and by extension, the Liberal Party—and he donated P72.3 million in TV ads. Aside from serving as the treasurer of the party, Umali is a hardcore politician from Mindoro whose experience ranges from being a representative to the province's governor. In 2015, however, he was sentenced to up to 10 years in prison by the Sandiganbayan for graft charges.
Jorge Araneta, P70 million
It is not surprising that Jorge Araneta, uncle of former DILG Secretary Roxas, can donate as much as P70 million to his nephew's presidential aspirations. After all, the head honcho of the Araneta Group has been hailed by Forbes as one of the richest Filipinos today at No. 31. As part of their efforts to diversify the company's interests, Jorge spearheaded the plan to create a $300-million office district inside Araneta Center.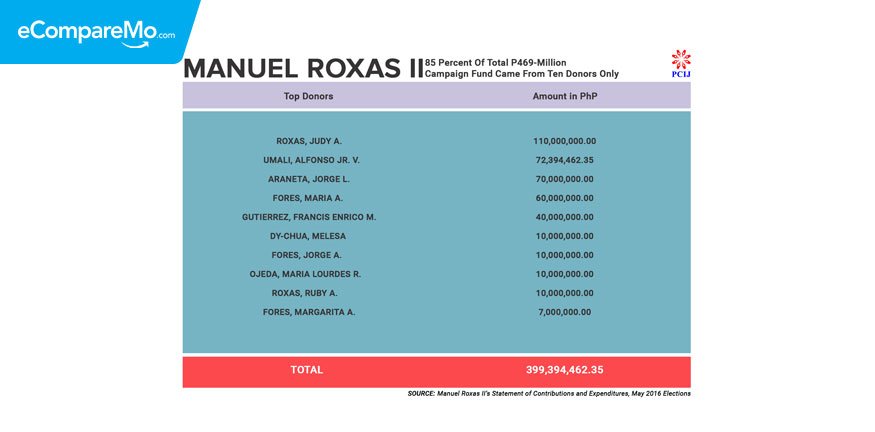 Maria Lourdes Araneta-Fores, P60 million
More commonly known as Baby, Fores is the mother of Margarita Fores, who was recently hailed as the best female chef in Asia by Asia's 50 Best Restaurants awards.
Francis Enrico Gutierrez, P40 million
The mining magnate has been in the news for quite some time now. He is the owner of SR Metals Inc., a company that prides itself as a small-scale group. However, a report by the Philippine Daily Inquirer revealed that their operations are nothing "small scale"—SR Metals has shipped some 1.8 million metric tons of nickel, which amounted to P28 billion.
Jejomar Binay
Raul B. De Mesa, P64.2 million
The most generous donor among the ranks of top Binay supporters has a long and winding history in banking. De Mesa, 74, has been working for the banking industry since 1963, holding jobs at banks both active and defunct like Bank of Commerce, Far East Bank and Trust Company, Manila Bank, among other. In 2010, he became a part of Home Development Mutual Fund's board of trustees, where Binay was a former chairman.
Germelina I. Taylor, P53 million
According to the list of stockholders published by SM Prime Holdings Inc, Taylor has a total of outstanding and issued shares to the Sy-owned company. In addition, a report published by the Philippine Dealing & Exchange Corp. showed that she's one of the top 100 stockholders in the company as of March this year.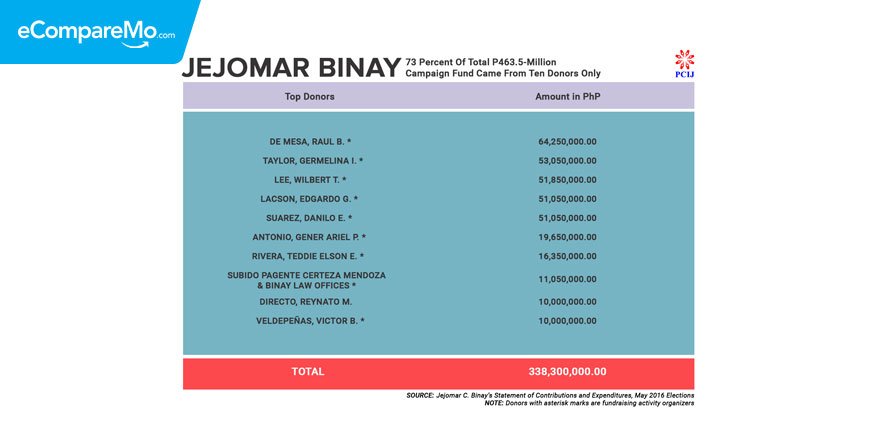 Wilbert T. Lee, P51.8 million
Lee is the president of LKY Development Corp, owner of the Oriental Hotels and Resorts in Legazpi, Bataan, and Leyte, and owns numerous stakes in shopping, terminal operations, and housing development. The developer also gave P1 million to Senator Leila de Lima during her campaign.
Edgardo G. Lacson, P51 million
Lacson has been moving around several groups, including Employers Confederation of the Philippines, Philippine Chamber of Commerce Industry, and Philippine Stock Exchange, among others. However, his interests go way beyond these institutions: he has hand in industries such as shipping, trading, real estate, information technology, food, and others.
Danilo E. Suarez, P51 million
Congressman Suarez of Quezon's 3rd District is no far from the spotlight of controversies. One of them was the vendetta against then SBMA chairman Richard Gordon. After losing the bid to supply radars for the area, the alleged offer to get the Porsche car about to be destroyed by Bureau of Customs, and the generous dinner paid for former President Gloria Macapagal-Arroyo in 2009.
Grace Poe
Oscar Astudillo Valera Jr., P50 million
A quick Google search will reveal that he's a native of Quezon City and part of the Great People's Movement for Progress, one of the groups that supported Grace Poe's presidential aspirations. However, how the mysterious man was able to donate a whopping amount of P50 million to Poe escapes us.
Jesusa Poe, P25 million
Of course you know her—by her screen name at least. The legendary Susan Roces also backed her late husband's presidential campaign in 2004. Roces donated P10 million back in February 9 and forked out P15 million more on February 23.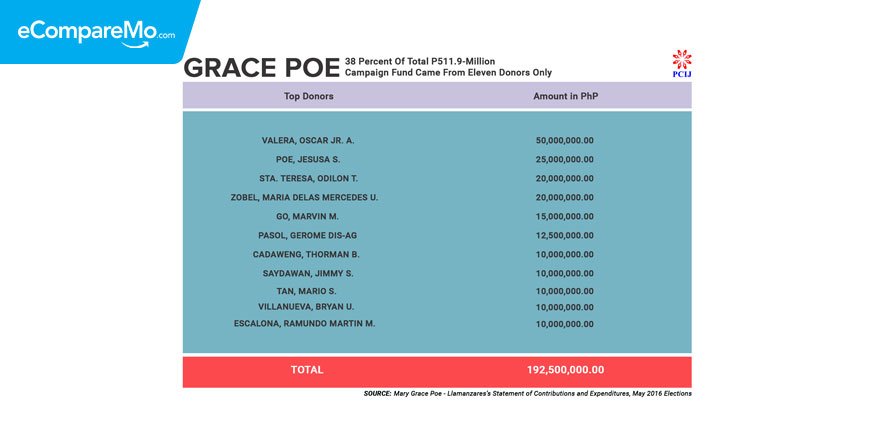 Odilon Sta. Teresa, P20 million
Sta. Teresa is a known government supplier, specifically in the field of telecommunications. In 2007, the Philippine Star reported that Sta. Teresa bagged a P400-million communications project with the Armed Forces of the Philippines through his company Datatrail, where Sta. Teresa serves as the executive vice president and COO.
Maria Delas Mercedes Urquijo Zobel, P20 million
Daughter of the late Enrique Zobel, Mercedes, along with his brother Iñigo, has a net worth of $1.5 billion according to Forbes. They inherited their shares from their late aunt in Ayala Corp., the family's publicly traded company. Aside from this, they also have stakes in San Miguel Corporation.
Marvin Go, P15 million
Marvin Go has little to no online presence, aside from the news articles saying he donated P15 million to Grace Poe's campaign team. However, a report by Rappler showed a report of all the party list nominees with Marvin Go as the fifth representative of the Partido ng Bayan ang Bida (PBB) Party List, whose members include Lorenzo Cadsawan and Roger Federezo, with the former serving as the president of the FPJ for President Movement (FPJPM) and the latter as a member.
Miriam Defensor-Santiago
People's Reform Party, P74.6 million
The late Miriam Defensor-Santiago may be the most frugal of them all, and for all the right reasons. In a report by the Philippine Star, the candidate only received a bulk amount of P74 million from her party, which the article furthered that only came "from just 10 individuals." This alone has been Santiago's campaign funds during the recently held 2016 presidential elections.