It's Much Better To Apply For A Metrobank Credit Card at eCompareMo
3 min read
Looking for a feature-packed credit card that's widely accepted in the Philippines? Perhaps it's time for you to apply for a Metrobank credit card! And there's no better place to get one than in eCompareMo.
Complete online credit card application in only a few minutes.
In the old days, you had to fill in a long application form which honestly is just a hassle. There are too many fields and so little space to write on. Add to that the need to give up your personal ID cards for identification purposes to random people you meet outside. You're just not sure if your personal information is going to be handled safely and securely.
But now with eCompareMo, you don't have to labor away writing and be unsure with your personal information. Our new and improved fully digital process is designed to be much easier to follow and understand. And our requirement collection process is safe and secure that only the proper people can have access to your information specifically for the credit card application process to proceed.
This time, you're able to actually enjoy applying for a Metrobank credit card.
There's a Metrobank credit card for your every need and want.
Whether you're using a credit card for business, pleasure, or both, there's a Metrobank credit card you can apply for.
Metrobank Rewards Plus Visa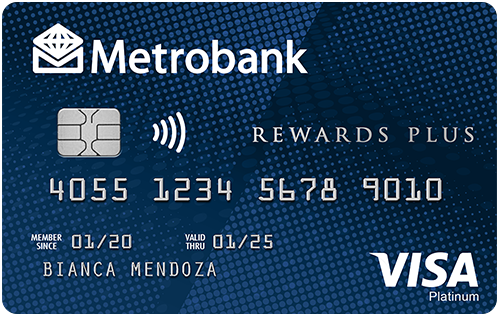 With a Metrobank Rewards Plus Visa, you can avail of the following features:
Zero Monthly Installment
Frequent Flyer Miles
2x Rewards Points on electronics & gadgets, transportation, telecom and all online spend
Balance Transfer
Cash2Go cash advance
Metrobank Titanium Mastercard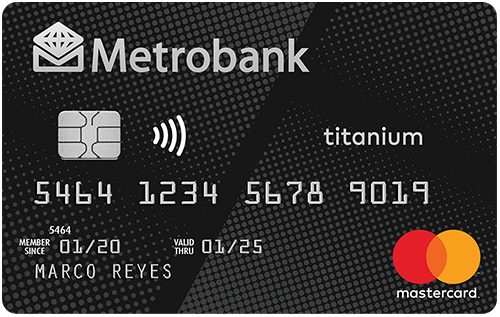 With a Metrobank Titanium Mastercard, you can avail of the following features:
Zero Monthly Installment
Frequent Flyer Miles
2x Rewards Points on department store, dining, and all online spend
Balance Transfer
Cash2Go cash advance
Metrobank Toyota Mastercard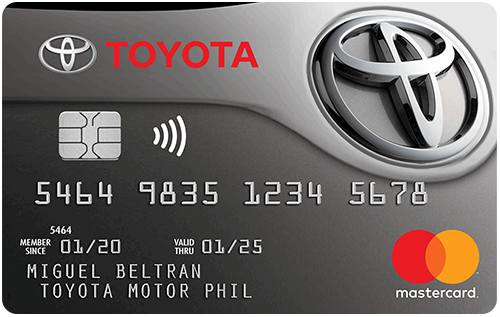 With a Metrobank Toyota Mastercard, you can avail of the following features:
Concierge and Emergency assistance
Zero Monthly Installment
Frequent Flyer Miles
Earn double rewards points for every P20 spend at your preferred Toyota dealer
Get a 3% fuel rebate every time you gas up at any Petron station
Balance Transfer
Enjoy a 10% discount with Toyota dealers (applies to genuine parts, accessories and labor)
Metrobank Femme Signature Visa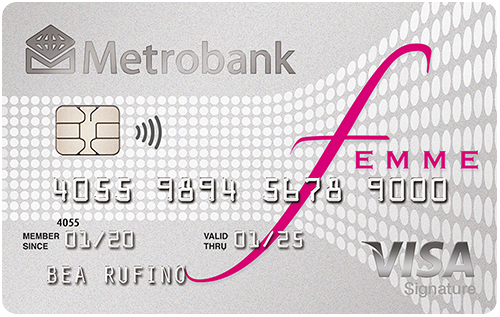 With a Metrobank Femme Signature Visa, you can avail of the following features:
Get access to over 60 VIP airport lounges in more than 100 countries
Free accidental death/disablement travel insurance of up to PHP 5 million
Enjoy exclusive signature lifestyle offers from the best hotels
Zero Monthly Installment
Frequent Flyer Miles
3x reward when you spend on hotel accommodations, salons, spas, and all overseas transactions
Balance Transfer
Exclusive signature lifestyle offers for women with your Metrobank Femme Signature Visa
Metrobank Travel Platinum Visa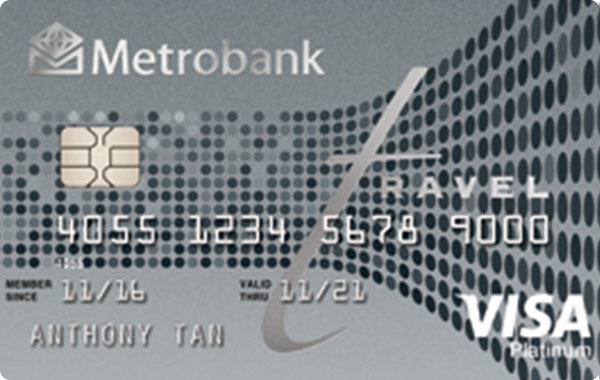 With a Metrobank Travel Platinum Visa, you can avail of the following features:
Free accidental death/disablement travel insurance of up to PHP5 million
Enjoy unlimited access to over 950 airport lounges
Get dining and hotel reservation assistance with the 24-hour VIP concierge service
Zero Monthly Installment
Frequent Flyer Miles
Earn one (1) point for every PHP17 you spend overseas and on airline and hotel bookings
Balance Transfer
Metrobank Peso Platinum Mastercard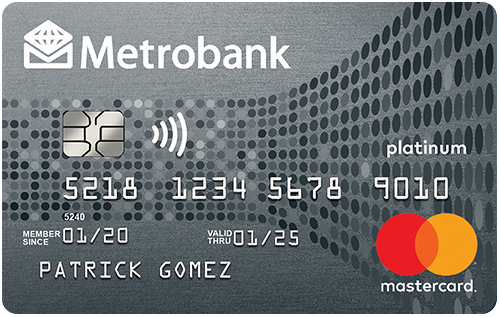 With a Metrobank Peso Platinum Mastercard, you can avail of the following features:
Zero Monthly Installment
Earn one (1) rewards point for every PHP20 you charge to your card
Balance Transfer
Automatic worldwide insurance for online item purchases with E-Commerce Protection (available until Dec 31, 2020)
Metrobank World Mastercard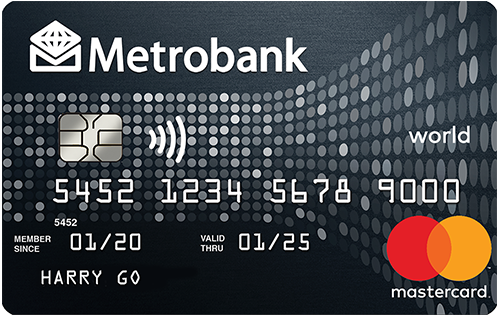 With a Metrobank World Mastercard, you can avail of the following features:
Get instant access, discounts, and deals at over 1000 airports and 500 airport lounges worldwide along with hundreds of dining, leisure, and shopping establishments.
Unlock rebates when you shop, dine, and relax at partner merchants in Australia, Hong Kong, Japan, Singapore, United Kingdom, United States, and more.
Zero Monthly Installment
Double the rewards points for every PHP20 you spend overseas
Automatic worldwide insurance for online item purchases with E-Commerce Protection (available until Dec 31, 2020)