Infrastructure Boom, Strategic Foreign Partnerships, And Key Things You Need To Know About 'Dutertenomics'
4 min read
If "Aquinomics" is all about good governance leading to increased economic confidence, then what will the current administration be all about?
For the second time this month, cabinet members of the Duterte presidency heralded his economic masterplan, said to harness the full potential of the country.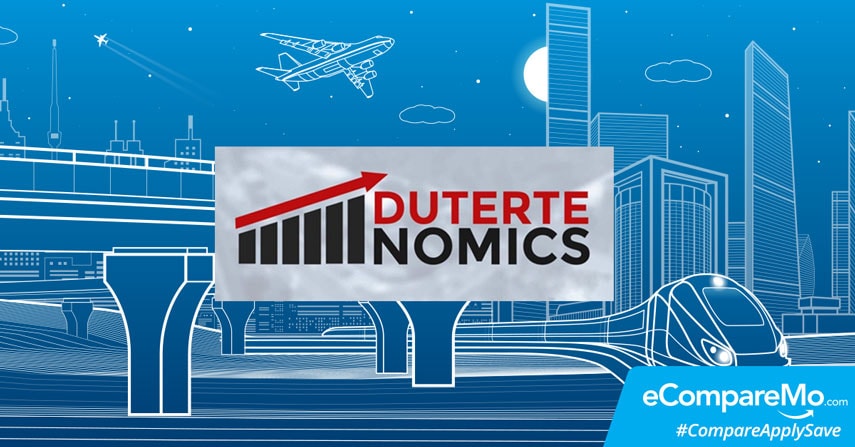 Dubbed as "Dutertenomics" by his followers, the policies are said to drastically shift from the previous administration.
With long-term goals and reportedly massive projects left and right, what is "Dutertenomics" all about, and will this chip away at poverty?
From 'Aquinomics' to 'Dutertenomics'
Former president Benigno Aquino III had "Aquinomics," a group of economic policies implemented by the previous admin. By fighting corruption though political and economic reforms, the Philippines would see a boost in commerce as well as increased consumer confidence.
This in turn will lead to more investments, creation of more jobs, and bigger revenue to be used basic services and social programs. This type of economic planning led to experts believing that the Philippines is the next big thing in Asia.
While the economic policies of the Aquino administration seem good for the government, it also had its flaws.
Instead of massive government spending due to bigger revenues collected, the previous government instead focused on underspending and public-private partnership.
Under the Duterte administration, this underspending is about to finally end.
Poised to usher in the "golden age of infrastructure" for the country, Dutertenomics will train its sights on massive infrastructure projects such as roads, ports, and railways that will sustain the country's rising economy.
These infrastructure projects left and right will pave way for more jobs, more spending, and more convenient ways for Filipinos to go on with their daily lives.
Upcoming projects
To make the big-ticket infrastructure projects of the government, Duterte's cabinet made several changes with regards to fiscal spending.
Budget Secretary Benjamin E. Diokno said they will allocate P847.2 billion on infrastructure programs this year, which amounts to 5.2 percent of the country's gross domestic product.
By 2022, the last year of the Duterte administration, the expenditure is projected to reach 7.4 percent.
By the time Duterte's term ends, the estimated amount spent on all infrastructure projects will have reached up to P9 trillion. In comparison, Aquino barely spent 2.6 percent of the GDP in infrastructure building.
The budget allocated by the government will be used in 55 flagship "game-changing" projects that are eyed to roll out and complete before Duterte's term ends.
According to National Economic and Development Authority (NEDA) Socioeconomic Planning Secretary Ernesto M. Pernia, the agency is ready to propose the programs to Duterte, which he said are "catalytic projects" that will encourage more development in their localities. In addition, there will also be a focus on developments outside of Metro Manila, which will make other provinces as competitive as the capital in terms of infrastructure.
While Pernia refused to name the said projects, he hinted that some of the infrastructure to be built are big, such as bridges that will connect the archipelago, airports, and roads.
In addition, some of the projects about to be started this year are the Clark-Subic Rail, Tutuban-Clark Rail, the North South rail that will reach up to Bicol.
Projects expected to break ground this year are the Clark International Airport, Manila Bus Rapid Transit, and three bridges across Pasig River.
As for the far-flung regions, Finance Secretary Carlos Dominguez III promised multiple developments outside Metro Manila.
"After 2017, President Duterte's administration will start the construction of long-span bridges between Bicol and Samar, between Leyte and Surigao and finally make land travel between Luzon, Visayas and Mindanao possible," he said.
Dominguez added: "The construction and rehabilitation of key regional airports will also ease travel among our regions. Projects like the Mindanao Rail, an almost 2,000-kilometer railway that will connect key Mindanao cities, will be a big boost to the economy of those regions, which need it the most."
Peace among worlds
Another key factor in making Dutertenomics a success is the strategic partnership with Russia and China.
During the second Dutertenomics Forum at the Conrad Manila in April, Trade Secretary Ramon Lopez said that pushing for stronger ties with Russia and China has brought the country some gains—and plans to continue reaping the benefits of friendship with the said countries.
Since Duterte announced his plan to make friends with both countries, the Philippines have received purchase orders from both Russia and China, which are expected to be followed up by other benefits after his visit in Russia next month.
Russia pledged to buy $2.5 billion worth of products from the Philippines, previously being sourced from South America.
Meanwhile, the state visit to China resulted in an agreement between Duterte and Chinese President Xi Jinping that the Asian country will get $1.7-billion worth of agricultural and industrial products.
Lopez hoped that the country's newfound friendship with these countries will generate more jobs for Filipinos as well as access to new markets.
"Creating more opportunities to empower Filipino is what Dutertenomics is all about," Lopez said.