INFOGRAPHIC: How To Stay Dengue-Free This Rainy Season
1 min read
Last year, almost 70,000 Filipinos contracted dengue from mosquitos.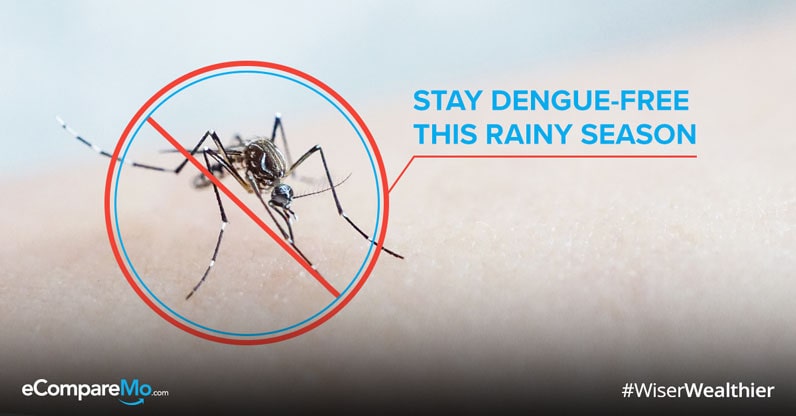 Since it's peak season for dengue-carrying mosquitos, know how you can protect yourself, your family, and community.

Protect your home
Windows and doors. Install net screens on the windows. Repair holes in existing screens.
Bed. If window screens can't be installed, sleep under a mosquito bed net (kulambo).
Water containers (inside bathrooms). If they are filled with water, make sure they're always covered.
Roof and gutters. Remove leaves and other clutter to avoid clogging.
Garden. Loosen the soil in flower pots and planters to avoid stagnant water buildup.
Flower vase. Replace water daily.
Water containers (outside, backyard). When not in use, keep them turned upside down or covered.
Garbage can. Trash attracts mosquitos, keep it secured.
Indoor plants. Get potted citronella plants as they are a natural mosquito repellant.
(Read: How To Protect Yourself From The Measles Epidemic)
Protect yourself
Vaccines. Be up to date on your inoculations (flu, anti-dengue shots, etc.)
Clothing. Wear protective clothing and limit your mosquito exposure.
Repellants. Use mosquito repellants such as citronella patches or lotion when outdoors.
Products to use
Defend yourself against dengue-carrying mosquitos with these tools:
Mosquito killer racket
Insect zapping lamp
Mosquito coil
DIY plastic bottle mosquito trap (the one made out of PET bottles and a liquid solution made of sugar, yeast, and water)
Insect spray
(Read: 'WILD' Diseases: DOH Advises The Public To Take Precautions Against Leptospirosis, Dengue, Et Al.)
Dengue symptoms you need to be aware of
Sudden high fever
Headache
Joint and muscle pain
Vomiting
Skin rashes
Bleeding gums and nose
Pain behind the eyes
If these symptoms begin to manifest, don't wait. Go to the emergency room immediately. Although there is no antiviral cure for dengue, you will receive treatment for symptoms such as dehydration, pain, and fever.
Ignoring these and not getting the proper medical attention for dengue can result in dengue shock system: lymph node and blood vessel damage, liver enlargement, circulatory system failure leading to bleeding, shock, and death.