Holiday Guide 2018: 14 Christmas Gifts To Get Your Beloved Car
3 min read
Car owners should know better than to skimp on car accessories. These are what make drives more comfortable not only for you, the driver and car owner, but also for your passengers and loved ones.
This holiday season, show your ride some love. Here are some of the best treats to give your beloved car this month to make way for more enjoyable trips for years to come.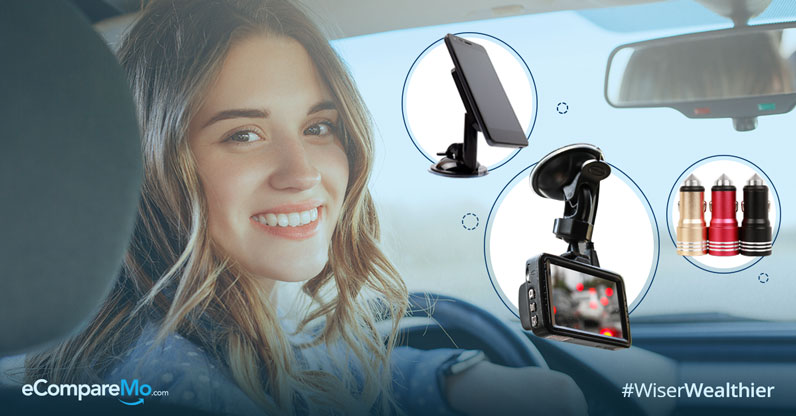 1. Dash cam
This is a must-have car accessory even though there's no mandatory law to back it up just yet. As it records video all the time you're driving, you can use it to back up a car insurance claim in case of an accident.
2. Portable vacuum cleaner
Don't have time to thoroughly clean your car seats and carpets? Get yourself a portable vacuum cleaner for that on-the-go quick cleanup.
3. Phone mount/mobile phone holder
This brings a lot of convenience to drivers everywhere who are used to navigating their way via Waze or Google Maps. Avoid potential accidents by propping your phone holder in the right area.
4. Multi-car charger
You don't have to take turns charging your phones, especially during long drives. There are multi-car charger USB ports that can hold up to five phones charging simultaneously.
(Read: 5 Pointless Car Accessories We Wish We'd Stop Seeing On The Road)
5. Cup holder
Whether it's for you or a clumsy passenger, it helps to have a cup holder at the ready for those drive-through drinks or early morning rush.
6. Swivel tray and storage bin
If you're not too strict and allow eating in your car, this one would be perfect for long drives after a stopover at the Drive-Thru, or just eating properly in your car anywhere you are.
7. Kick mat/Car seat back protector
Protect your front-seat back covers by buying a Kick Mat. There are some Kick Mats that come with an organizer so you can use that space to stash some of your stuff.
8. Inflatable car bed
This one applies more to the serious traveler. You can save a lot of money when traveling overnight by installing this in your back seat.
9. A First Aid Kit
Another must-have is a first aid kit in your car. Some important items you need to include:
Over-the-counter pain relievers as Ibuprofen and Aspirin
Over-the-counter antihistamine in case of allergies
Band-Aids
Antiseptic medicine, such as Betadine
Cotton balls
Topical pain relievers, such as Tiger Balm, or White Flower Oil. Helps treat motion-sickness, too.
Scissors
Gauze bandage
Gauze tape
Sunscreen
Mosquito repellent lotion
Aloe Vera or virgin coconut oil for sunburns
Digital thermometer
Rubbing alcohol or hand sanitizer
10. Road Assistance Kit
Whether you're a DIY guy or need help from professionals, it's important to have roadside assistance items in your trunk. Add more as needed:
LED flashlight—preferably with no batteries needed
Car owner's manual
Spare tires, a lever, pump, and tire gauge
A reflective safety vest
Car jump starter
Toolkit extra fluids, screwdrivers, tapes, and pliers
A portable fire extinguisher
Reflective warning triangles
(Read: 7 Kickstarter Products For Motorists That Would Be Safe To Use Under The Anti-Distracted Driving Act)
11. Waterproof pet seat cover
For animal lovers.
12. Baby car seat
Most of the baby car seats usually come with a latch and chest and buckle pads for your baby's safety.
13. Digital tire gauge
The fastest way to check your tire pressure.
14. Seat cushion
 Allow yourself and passengers to sit more comfortably in your car.
Another great holiday gift that you can get both your car and yourself is a good car comprehensive car insurance policy. Give yourself the gift of complete peace of mind by ensuring that you, your car, and even your passengers are protected in case of accidents.
Oriental Assurance Corporation is one of the most trusted car insurance providers in the Philippines. Make sure that you and your vehicle are covered from losses and damages the whole year round.