Here's What You Need to Know About PGA Sompo's CondoCARE
3 min read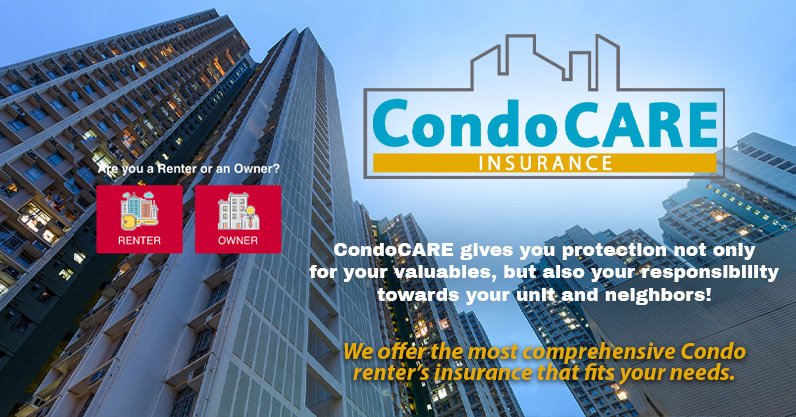 Unlike buying a house, millennials nowadays would instead invest in a condominium unit. Why? As first-time owners, condominiums are a lot more affordable and convenient. You can easily find a place in the heart of the city where all your necessities are within reach, including supermarkets, banks, hospitals, transportation system, among others. Some condominium buildings even offer exclusive amenities like gyms and swimming pools.
Now, if you found yourself reading through this article, you may be someone who currently lives in a condo or is planning to do so. Regardless of what, it's understandable that you are here because you want to learn about how you can take better care of your condo unit.
One of the best ways to do that is by availing of condo insurance.
If you're looking to insure your condo unit, PGA Sompo has the best insurance option for you. This article will tell you more about it.
Introducing CondoCARE
In response to the increasing need for condo insurance, PGA Sompo created CondoCARE. It is a type of property insurance designed specifically for condominium unit owners. It gives you appropriate protection for your valuables, and your responsibility towards your neighbors and the unit owner should an accident like electrical circuit overload, fire, or water leakage occur.
But of all condo insurances in the market, why choose CondoCARE? Here are the key features that set it apart:
High Liability Coverage
To avoid trouble and maintain a good relationship with your neighbor and landlord, you may choose to purchase high liability coverage that has both.
a. Comprehensive general liability that covers damages to neighbor's unit, and
b. Tenant's liability that covers damages to the unit owner's belongings.
Customizable Coverage
You have the freedom to apply for coverage where you need it the most and have the flexibility to select your desired insured value based on your budget.
Easy Online Transactions
You can be insured in 3 easy steps: complete your online insurance application, get a quote in less than a minute, and then pay for your premium. Filing of claims can also be done online!
If you want to learn more, here is a quick FAQ section to answer the most critical questions about the application, coverage, and claiming of CondoCARE insurance:
Does my condo insurance cover my belongings even when I take them with me on vacation?
Yes, if you were able to declare it upon application.
If I have a claim, will my premiums go up?
Yes. Even though you've been considered a responsible owner in the past, your insurer may re-evaluate your insurance and decide to raise your premium should there be an accident.
Does condo insurance cover appliances?
Yes, since it is part of the Condominium contents.
Is my dog covered too?
No, but in case of dog bites, the insurance will cover your liability towards the third party.
How much will I be paid for damage to my personal property?
This will depend on the claims adjustment results.
What do I do when my property is damaged or stolen?
You must report it to the building administrator immediately, and if needed, you must call the police.
I have done renovations and improvements. Will my home insurance replace these upgrades?
During these events, you must inform your insurance company that you did renovation improvements so that cost will be endorsed to your policy.
Does it have an effect if the property is in specific locations, like fault lines?
When you activate the insurance, you need to register the risk location. If the building is not yet included in the database, the underwriting will have to check, approve, or deny the risk location.
Is loss history taken into consideration?
Your area will be checked and subject to confirmation.
For double insurance, how will it affect the claim?
Either one party should be paying the 100%, or two parties/insurance companies will likely share. There must be coordination and adjustments between the two insurance companies.