SONA 2019: On The TRABAHO Bill, National Land Act, And The 12MN Curfew
5 min read
Three years into his term as the highest leader in the land, President Rodrigo Duterte delivered his 2019 State of the Nation Address (SONA) on July 22.
So compared to the previous SONAs, how did this one stand up and—more important—have any of the previous SONA promises been fulfilled?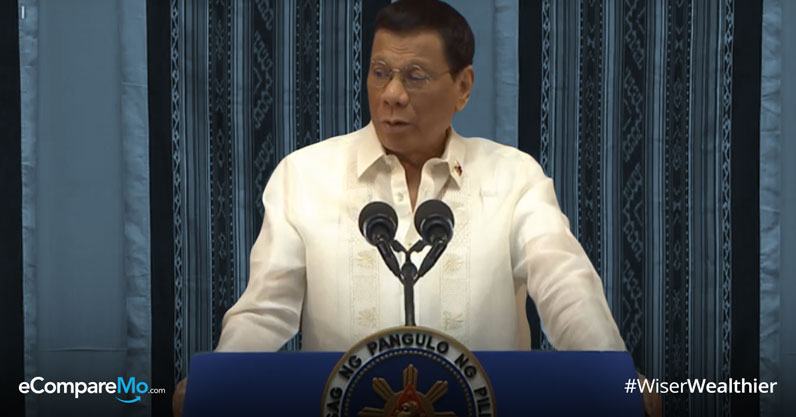 The year that was
Last year, we took note of some of the promises made by the administration that aimed to make the lives of Filipinos better. Was Duterte able to make good on his promises?
We looked back to a few key points from his last year's SONA and checked:
On ease of doing business. He signed Republic Act No. 10032 into law before SONA 2018. A few weeks ago, he also signed the implement rules and regulations (IRR) that would amend the Anti-Red Tape Act of 2007.
On the welfare of overseas Filipino workers (OFW). He wants to make good to his promise to them by creating the Department of OFW. Duterte said he wanted the new government agency to be up and running by December. Neophyte Senator Christopher Go filed Senate Bill No. 202.
On universal health care in the Philippines. The Department of Health (DOH), Philippine Health Insurance Corporation (PhilHealth), and other agencies are already writing the IRR for the Republic Act No. 11223, which was signed into lawlast year.
On ending endo. He signed Executive Order No. 51 that merely aims to reinforce existing laws that concern contractual work in the country. While the "anti-endo" bill is just waiting to lapse into law, it still draws flak from business groups.
On ending the Globe-Smart duopoly. The government gave the Mislatel-China Telecom-Dennis Uy supergroup the rights to operate in the country. Now called Dito Telecommunity, the third telco is expected to be in operation as soon as possible.
On disaster response. He urged Congress to create a department that would focus on disaster response and resilience. However, both the House of Representatives and the Senate have yet to pass a bill that will lead to its creation.
On TRAIN 2. The legislation of the TRABAHO Bill has yet to see the light of day is it meets resistance from both members of the government and the private sector. The Philippine Economic Zone Authority (PEZA) warned that the current iteration of TRABAHO Bill will cause investment inpour to decline.
SONA 2018 2.0?
While expected to only last for 40 minutes, Duterte's SONA 2019 clocked in at almost double the intended length. However, one can't help but claim that this year's speech by the President is true to what it is: a report on the year that was.
Some of the key points Duterte raised during his SONA were mere augmentations of his achievements for the past year.
For instance, he recalled certain measures from last year's SONA such as the passage of Republic Act No. 11032 or the Ease of Doing Business and Efficient Government Service Delivery Act of 2018.
After lauding the Congress' prompt response to prioritize the law, he lashed out and said "LTO, SSS, BIR, LRA, and Pag-IBIG are the top five agencies that need to drastically improve their service."
"Simplify, just like the others. You can do it electronically. You do not have to go to the office," Duterte said.
He even asked the Filipinos to be assertive when government workers ask for an additional amount to do their services.
"Kaya I said the Filipinos if it is done to you, I'm telling you, slap the guy, create a scene, create a scandal because that incident however little will reach me. And if it does, you can be sure, if I do not call you and the idiot, I will go there myself. That is a promise, that is a pledge," Duterte said.
Regarding the second tranche of the Comprehensive Tax Reform Program, he implored to the Congress to hastily pass the bill. He promised that the TRABAHO bill will "hopefully" generate 1.4 million jobs by reinvigorating the micro, small, and medium enterprises (MSME).
His promise to hold a conversation with Kuwait after reports of abuse erupted last year also came into fruition. Duterte happily reported that the Philippine and Kuwaiti governments signed Bilateral Labor Agreement with Kuwait in 2018 to ensure the welfare of the Filipinos in the Middle Eastern country.
Other points he reiterated from last year include the creation of a department for disasters a la Federal Emergency Management Agency (FEMA) in the United States, the call for the third telco to deliver top-notch services, and the threats to corrupt officials.
(Read: New Law Increasing SSS Contributions Approved)
More than just updates
While a bulk of this year's SONA is just Duterte talking about his accomplishments, it's also worth pointing out that he has plans in mind for the future. If you paid close attention to his SONA yesterday, you'll know he's not just rehashing the same script from last year.
During his speech, Duterte ordered the Metropolitan Manila Development Authority (MMDA) and the local government units to "to undertake immediate action to ensure the speedy and smooth flow of vehicular traffic."
"Reclaim all public roads that are being used for private ends. Marami diyan," he said.
And if the local officials don't heed his order? He tasked Department of Interior and Local Government (DILG) Secretary Eduardo Año to suspend those who would rather please their constituents than free up roads for public use.
With the government losing P3.5 billion a day due to vehicular traffic, it seems like Duterte is really adamant in making promises such as "Cubao-to-Makati in five minutes" a reality.
He also asked Congress to pass a bill creating a department for water resources. He said that the agencies and personnel currently handling waterworks should be changed immediately.
For the third time, Duterte pleaded the Congress to finally pass the National Land Use Act "within this year."
When this becomes a law, it will create an agency that will classify depending on how they should be used. Some potential classifications include protection, production, settlement development, and infrastructure development.
"A science-based national land-use plan would serve as basis for the LGUs in crafting respective development plans, and help disperse economic activities to the countryside," Duterte said. This is in line with his administrative agenda to bring development outside of Metro Manila.
Finally, one of the most notable ideas he wanted to pursue is to sign a law that will mandate businesses to close at midnight. Borrowing heavily from his Davao-style politics, which has a curfew for businesses and he said has reportedly received positive reception from the public.
"Everything closes down at 12, nobody works. You have to stop drinking. Jukebox, only good up to 8-9 PM," he said.
Other sources:Rappler