Calculating The Real Cost Of Breaking Up Is Truly Heartbreaking
4 min read
The demise of what you thought was an undying love is a reality that is difficult to swallow.
Angelina Jolie recently filed divorce from her long-time beau Brad Pitt, after 12 years of being the #relationshipgoal every couple on the planet looks up to.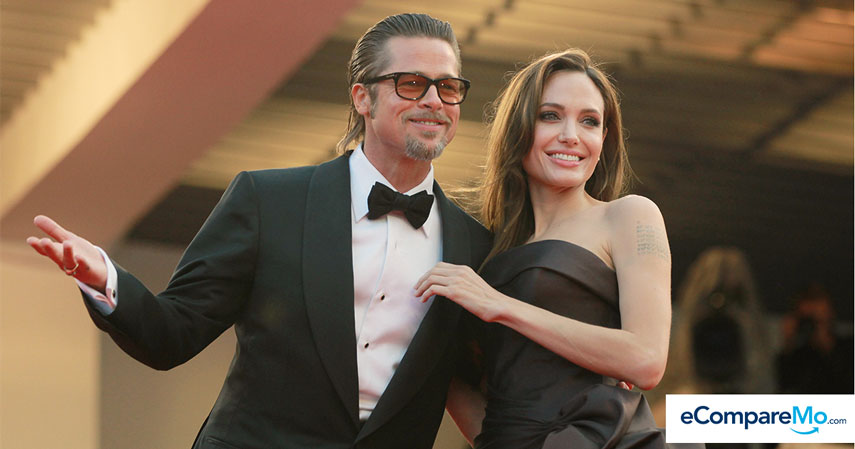 Though it's going to be a tedious and trying situation for Brangelina, it's not just their hearts that will break. Being two of the wealthiest celebrities in Hollywood, separation means breaking the bank too.
As per the estimate of Forbes, Pitt and Jolie's combined earnings since exchanging "I do's" in 2014 is $117.5 million—and $555 million since dating in 2004.
Divorce, annulment, and even just the simple boyfriend-girlfriend breakup, of course, has its financial repercussions.
In a GMA News report, Atty. Frederick Lu says the average cost for separation cases due to psychological incapacity is P75,000, which includes psychologist's fee, court filing fee, and professional dues.
Gabriela Women's party-list Rep Luzviminda Ilagan, on the other hand, says the cost of annulment cases based from women's experiences is around P300,000. But it can shoot up to P1 million for marriage nullification.
Looking on the bright side, breakup opens doors to better romantic opportunities. Realistically speaking, the first leg is like opening the Pandora Box.
Stop being the season's sneaky stalker and look deep within your own pocket instead. Applying the three-month rule of breaking up, here are some financial repercussions of being sawi sa pag-ibig.
Stress eating
According to a long-term study conducted by Yale, chronic stress can compromise your waistline due to excessive cortisol levels. Also, mindless munching and fulfilling your food cravings that are basically sweets and fats? WEIGHT GAIN.
A tub of ice cream: P140 to P400 a week
Total: P1,680 to P4,800
Burger, fries, and soda combo meal: P110 to P200, every other day
Total: P5,060 to P9,200
A box of pizza: P255 to P600, every three days
Total: P7,650 to P18,000
Note: On top of spending on overeating, there is a high likelihood that you'll spend on gym membership.
Binge shopping
Retail therapy is not a myth. The Journal of Consumer Psychology reveals that purchasing items can actually alleviate sadness in purchasers.
Doing so also helps one regain a sense of control in their lives by up to 40% than window shopping, according to the University of Michigan.
Brand new iPhone 7: P38,500 to P107,000
Brand new X-Box with Kinect: P12,500 to P24,000
Brand Nike Roshe: P4,600 to P5,500
Brand Adidas Stan Smith: P4,900 to P5,700
Note: Boxes of tissue not included.
Drowning in your sorrow
Booze is part of the ritual of every breakup. We get it.
Alcohol makes you relax or sleepy, which is a momentary relief. A glass or two fine, but getting hammered in the worse way shot after shot, bottle after bottle is so not adult of you.
Ironically, alcohol is a depressant that keeps your body's neurotransmitters off balance.
A bucket of beer: P180 to P320, for every weekend spent at the bar
Total: P6,480 to P11,520
Sizzling pulutan hits: P150 to P350, every weekend
Total: P5,400 to P12,600
Friendly advice: "Wag na nating idaan sa maboteng usapan. Lalo lang madaragdagan ang sakit ng ulo at bilbil sa tiyan." – Eraserheads
Soul-searching
They say absence makes the heart grow fonder. Packing your bags and booking ticket is a must for many when moving on just to break free from emotional suffocation.
Travel toughens up your soul by teaching you to manage different situations in a different environment. But a tattered heart might send your wallet to another planet too.
Plan ticket to Puerto Princesa, Palawan: P3,500 to P7,800
Pocket money: P5,000 to P12,000
Friendly advice: Read up on our budget travel tips here.
On the rebound
Rushing to date just to heal? Bad idea.
Albert Einstein defines insanity as doing the same thing over and over again expecting different results. Freedom is a gift; an opportunity to learn—and not a hall pass to fool around.
Fancy dinner date: P1,400 to P2,500, once a week
Total: P16,800 to P30,000
Movie ticket and a bucket of popcorn: P450, once a week
Total: P5,400
Entrance fee and drinks for clubbing: P1,300 to P2,500, once a week
Total: P15,600 to P30,000
Advice: Um-aura nang na-a-ayon sa kaya ng bulsa. Right now, you already went overboard. Let your budget heal too.
Return-exchange
Over the time spent together, you and your now-ex have exchanged you tokens of love through gifts.
Now that these memorabilias won't be helping both of you to move forward, you start to give back all the items you give to each other. Talk about disposal of assets.
Friendly advice: Instead of throwing them away, why not sell them as secondhand items so you could get a return on investment?
What's the most expensive breakup you've had? Share it in the comments.