Steal My Itinerary: Budget Travel To Myanmar in One Week
11 min read
Maybe you remember our neighboring South East Asian country Myanmar from history classes, or maybe you don't. What you are sure to remember after you read this post are all the fantastic and exotic sights it has to offer the adventurous wanderer.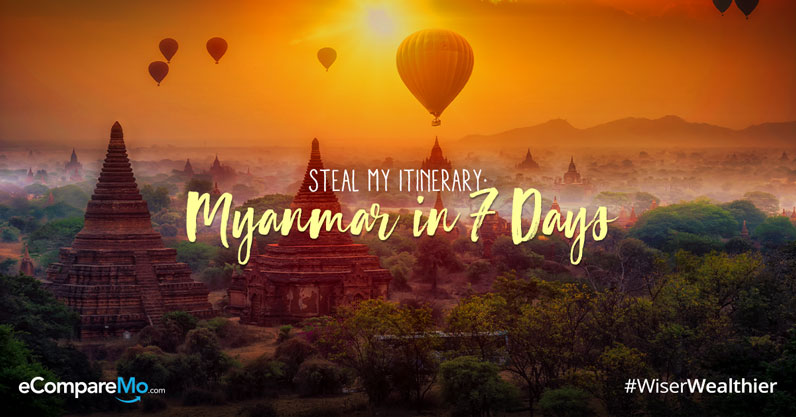 If it sounds familiar but you just can't place it, it might be because for a long time, Myanmar was called Burma. We share the same history of colonization, and dictatorship. They were colonized by the British and liberated only on 1948.
When traveling there, however, there is a stark contrast to what you find in Myanmar compared to the modernity of the Philippines. To Lorie, a Corporate Sales Team Lead in Makati, exploring Bagan in Myanmar last November was like going back 30 years past.
She observed that Yangon (Rangoon), its former capital, was more modern, but they marveled more at Bagan's pagodas, way of life, and old charm.
She shares her budget travel itinerary to inspire others to come visit this country and learn more about its culture, without breaking the bank.
The rundown
Total Airfare: P9,950 Promo fare round trip, Manila (Malaysia) – Yangon – (Thailand) Manila
Total Bus fare: P1,379 round trip, Yangon – Bagan – Yangon
Exchange rate: MMK 29.74 (Myanmar Kyat) = PHP 1 (as of writing)
Visa: Not required
Why this travel route? This is the most convenient route due to the nine-hour train ride from Yangon to Bagan.
One of the main agendas of this trip was to witness hot air balloons flying above the Bagan sky at sunrise.
Locals are pious so there are many other lesser-known Buddhist religious sites along this route, other than the popular and bigger pagodas (Note: A pagoda is a Hindu or Buddhist temple). Every pagoda has its own history, and we were surprised and in awe with the story behind them, aside from their architecture and solemnity.
(Read: Your Philippine Passport Can Now Take You To 66 Countries Without A Visa)
Day One: November 09, 2019
| Day 1 | Time | Cost |
| --- | --- | --- |
| Departure from Manila | 6:45 AM (PHT) | |
| Flight 1: Arrival in Kuala Lumpur International Airport | 10:40 AM (MYT) | |
| Departure from Kuala Lumpur International Airport | 5:20 PM (MYT) | |
| Flight 2: Arrival in Yangon International Airport | 6:30 PM (MMT) | |
| Taxi from YIA to Mingalar bus terminal overnight | 9 PM (MMT) | 10,000 MMK |
Myanmar travel tip: Don't forget to spend all your MMK bills before leaving Myanmar, as you can't get it exchanged anywhere, not even in Manila. For PHP to MMK exchange, it has to be made in USD.
Side trip in Malaysia
As planned, we took a connecting flight in Kuala Lumpur, Malaysia which landed us there for five hours. We decided to use that time to make a short visit to the Petronas Towers via MTR.
You only need 50 Malaysian Ringgit (approximately P700) for the lunch, MTR fare, and other food expenses. It is advisable to withdraw at the ATM machines once you've arrived in Yangon International Airport (YIA) since it's hard to exchange other currencies to Kyat other than US dollars.
Day Two: November 10, 2019
| Day 1 | Time | Cost |
| --- | --- | --- |
| Arrival in Bagan Shwe Pyi Highway Terminal 6:00 AM (MMT) | 6:00 AM (MMT) | |
| Taxi from bus terminal to Sky View Hotel | | 10,000 MMK |
| Bagan Tourism Fee (valid for 5 days) | | 10,000 MMK |
| Hotel breakfast (roof deck) | 8:00 AM (MMT | 3,000 MMK |
| Early check-in at Sky View hotel (3 nights – 2 pax) | 10:00 AM (MMT) | 34,800 MMK |
| Bagan e-Bike Temple Tour (Shwezigon Pagoda, Thagya Hit temple, Ananda temple, Gawdawpawlin Temple) | | 5,000 MMK/bike |
We divided the fare and transportation fees into two for the e-Bike, and four for car tour (MMK 10,000) since there were four of us.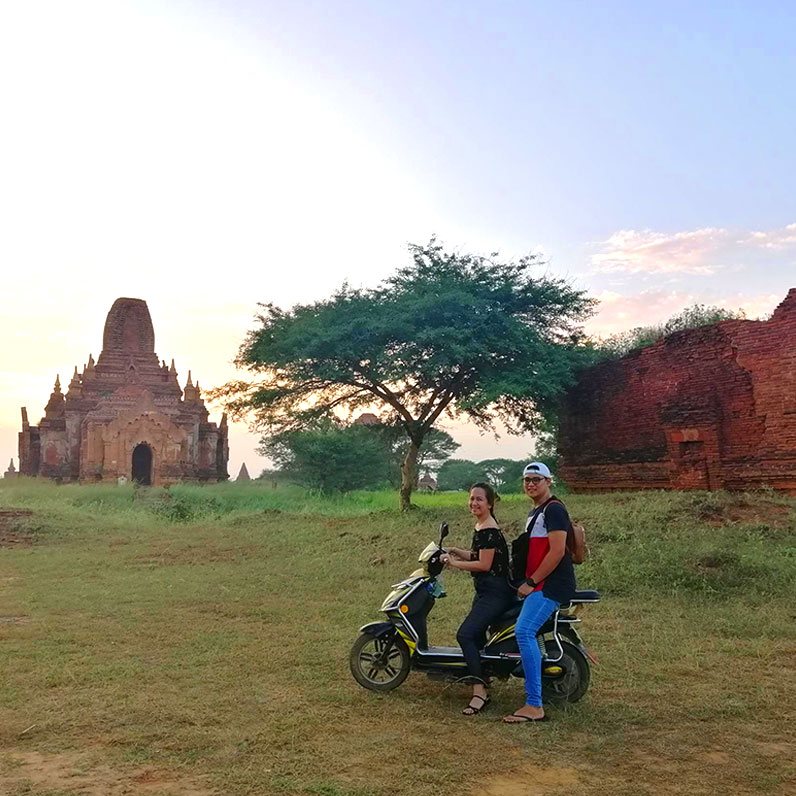 A majority of the people there still wear Longyi (Note: A Burmese cloth commonly worn in Myanmar to cover the lower half of the body). Unlike other Asian countries, the people in Myanmar dress completely different, especially when visiting the temples. Following the Burmese dress code is a way of showing your respect towards the culture and traditions in Myanmar.
Nowadays, not all Burmese people dress in traditional longyi. Some of them (both women and men) prefer to wear medium length or long pants. We recommend bringing plain tees or blouses, and pants or a skirt that goes down to your knees.
In case you missed bringing conservative clothes, you can also buy a longyi and use it instead of long pants when visiting the temples. You'll find longyi almost everywhere in Myanmar.
Myanmar travel tip: Put some thanaka on your face. One of the first things people notice when walking through Yangon is the whitish yellow paint on the faces and limbs of the locals. The paint is thanaka —a traditional paste made from water and the thanakha tree, and it's unique to this Burmese region.
(Read: Steal My Itinerary: Kyoto, Osaka, Gifu, Japan in 8 Days)
Day Three: Nov 11, 2019
| Day 1 | Time | Cost |
| --- | --- | --- |
| Car tour from hotel to Mount Popa | 9:00 to 1:00 PM (MMT) | 10,000 MMK |
| Lunch stop | 1:00 to 2:00 PM (MMT) | 5,000 MMK |
| Afternoon E-bike tour to Bagan Railway station, Dhammayazika Pagoda, Winido Temple | 3:00 to 7:00 PM (MMT) | 5,000 MMK |
The Bagan car tour lasted about an hour and a half. We passed a lot of villagers asking for money on our way up Mount Popa.
The temple on Mount Popa is packed with monkeys who steal food and drinks. It's a bit of a problem based on reviews, but we weren't bothered and still had a really good time.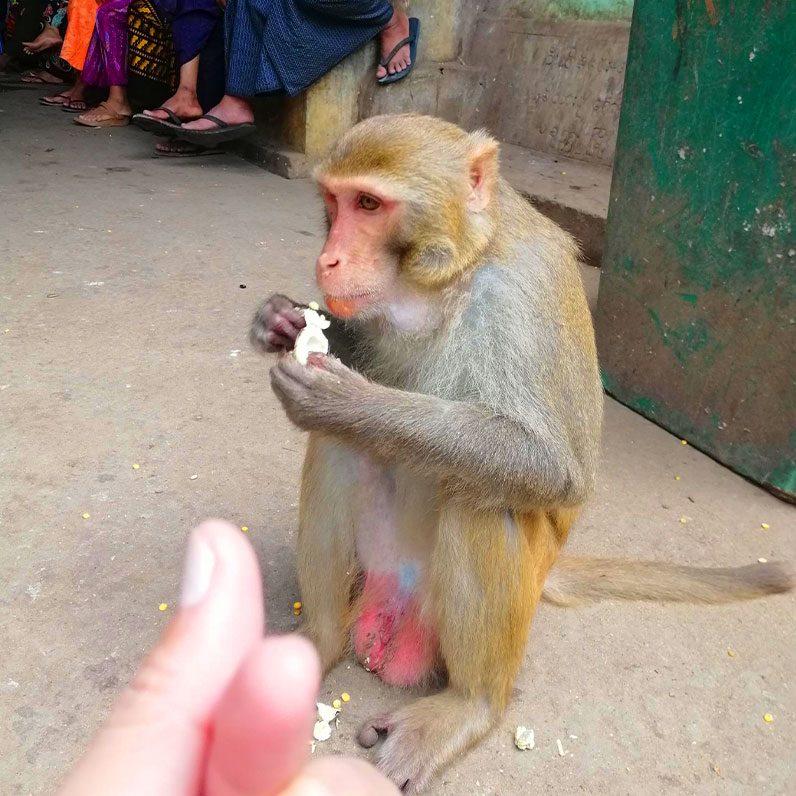 The view above is spectacular and worth the 777 steps climbing barefoot. Yes, that's right, barefoot.
Everyone is required to take off their footwear at Mount Popa base. You'll need to pay MMK 250 to store your shoes in a locker or you can just bring it with you. We chose the latter. The two most important things to bring are wet wipes to clean your feet, and mineral water to stay hydrated.
You would love the view of nature surrounding Mount Popa, plus the view of Bagan temples from the top. We went there early in the morning but didn't catch the sunrise. I would advise you go in late in the afternoon to see the sunset. You'll get to see the shadow of the temple on the other side.
In the afternoon, we went back to doing our group's unanimously favorite activity — the e-Bike tour. We took our time going around the town and taking photos around the pagoda.
Day Four: November 12, 2019
| Day 1 | Time | Cost |
| --- | --- | --- |
| Half-day tour including sunrise at Min Nan Thu Village, quick stop in Ananda Temple, Dhammayangyi Temple, Sulamani Temple, Thatbyinnyu Temple | 5:30 to 12:00 PM (MMT) | 10,000 MMK |
| Ananda Temple Entrance for the 4 Buddhas | | 1,000 MMK |
| Lunch | 12:00 to 2:00 PM (MMT) | 5,000 MMK |
| Free Time / Rest | | |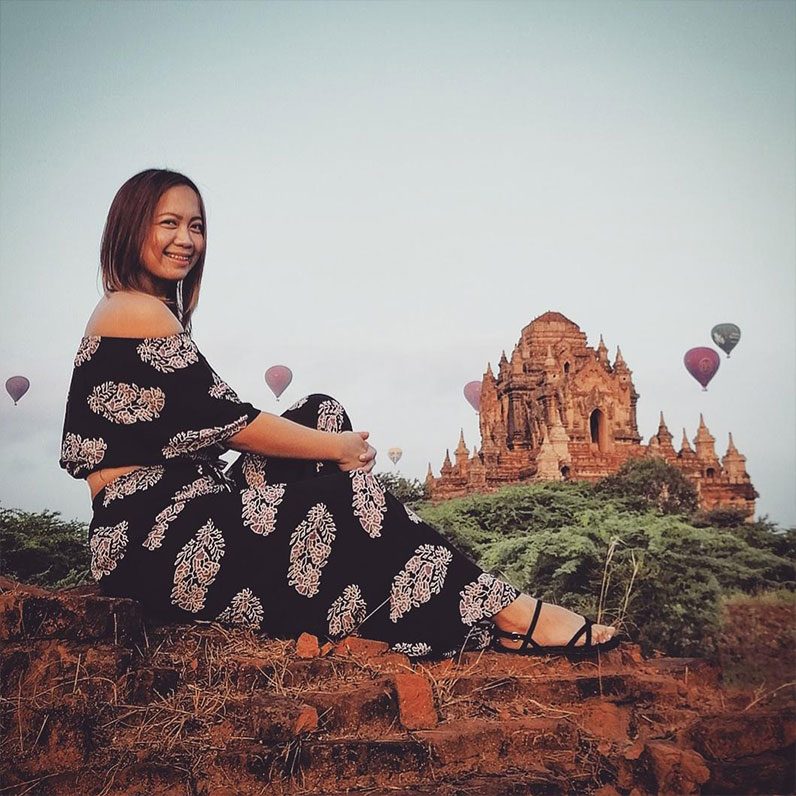 Riding on a hot air balloon over Bagan is expensive but seems totally worth it. However, since we were on a DIY budget travel, we appreciated just seeing a group of hot air balloons over the pagodas during sunrise — plus, it's free!
We scheduled a tour with our hotel's designated tour guide/driver. He brought us to a man-made elevated area where the sun rises, located in Min Nan Thu Village. Most of the tourists who choose to watch the hot air balloons taking off on a less touristy area go here.
After witnessing our tour highlight, we then visited Ananda Temple. It's a temple with gold-plated tower. It ended up being one of our favorite temples in Myanmar. Inside this temple are four buddha statues of nearly 10 meters high, each facing in a different direction. To see these, foreigners pay MMK 1,000 and make sure to keep the small envelope with a bit of gold paper, said to be a lucky charm.
Our next stops were Dhammayangyi Temple, Sulamani Temple, Thatbyinnyu Temple. We also tried tattoo art; a widespread custom practiced by various ethnic groups in Myanmar. This costs around 3,000 MMK.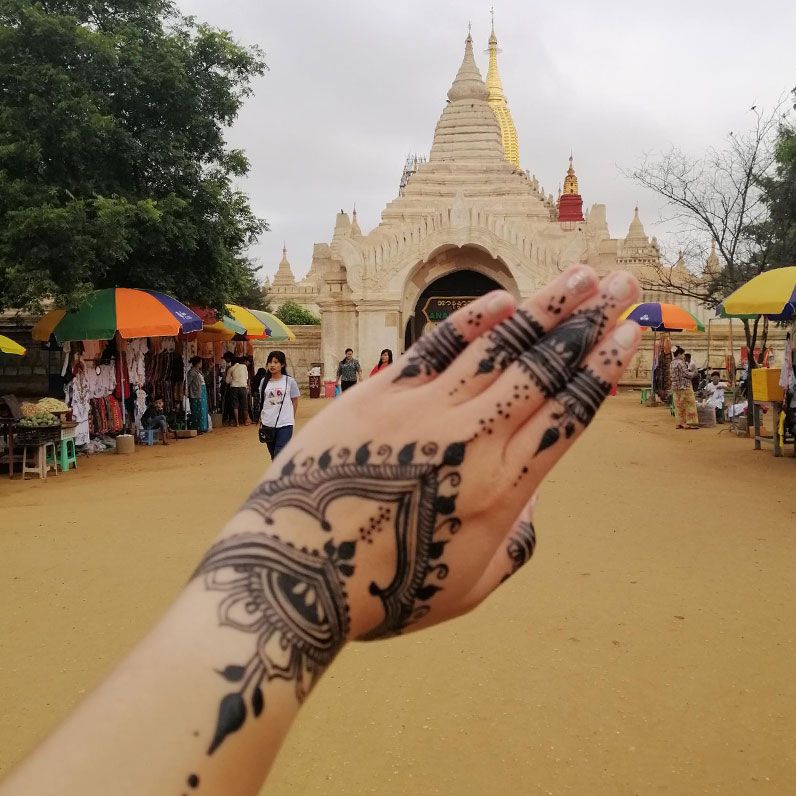 Myanmar travel tips:
The hot air balloon season is on the last week of September to December. It can get too hot in the summer, and it can get foggy on some months. It's important to also do your own research if you really want to experience the hot air balloon ride.
You may ask the driver to bring you for a side trip to the bus terminal, so you can buy your returning ticket to Mingalar bus terminal.
(Read: Five-Day Bali Itinerary: A Gastronomic Travel Guide To The Island Of Gods)
Day Five: Nov 13, 2019
| Day 1 | Time | Cost |
| --- | --- | --- |
| Breakfast | 7:00 – 8:00 AM (MMT) | Free |
| Swimming at the hotel | 8:00 – 10:00 AM (MMT) | |
| Lunch | 12:00 to 2:00 PM (MMT) | 5,000 MMK |
| Late Check Out | 3:00 PM (MMT) | |
| Bagan Shwe Pyi Highway Terminal | 8:00 PM – 6:00 AM (MMT) | |
The fifth day was our day to enjoy some free time. We spent most of our time buying souvenirs and other Myanmar memorabilia along the road and visiting different spots without feeling the need to hurry.
We went back to the hotel to get some rest and recharge before we head to our next stop, Yangon. Riding in a bus overnight can save money, as it lessens additional expenses like hotel accommodation.
The bus we got was comfortable and there are lots of bus lines to choose from. It could be ordinary or VIP, with complimentary snacks, toothbrush with toothpaste, and wet wipes. If you'd like to explore more of Bagan, you may go on a food trip at different nearby restaurants in New Bagan, on your last day there. Personally, I recommend you try the teashops and their brick oven pizzas.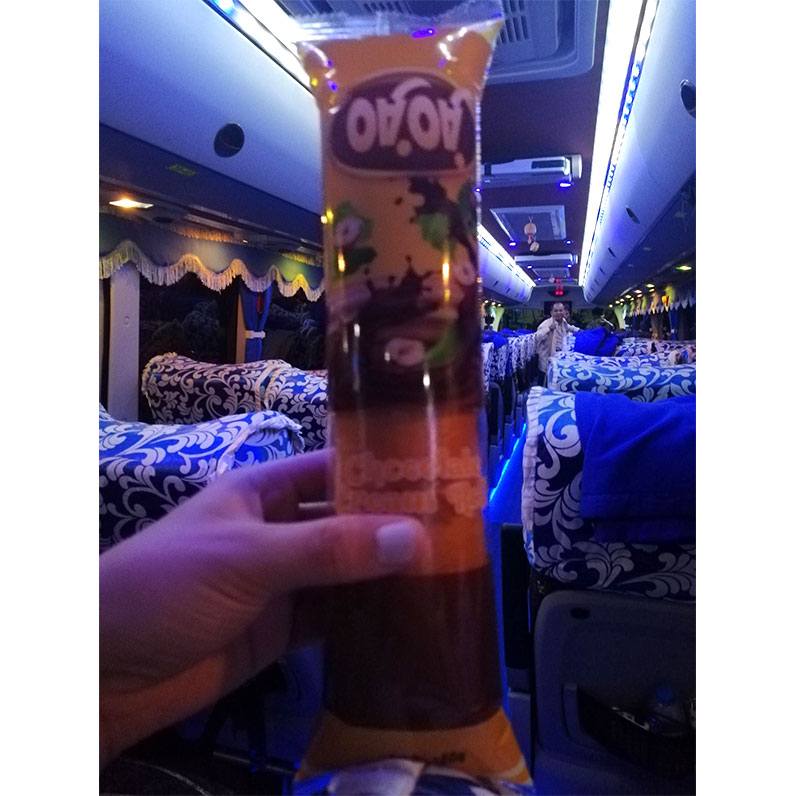 Myanmar travel tip: Around this time, your used clothes would already pile up. You can avoid this by bringing your own laundry soap and washing your clothes or at least the delicate ones, at the end of the day. This also lets you travel light, especially when backpacking.
(Read: Steal My Itinerary: Chasing The Northern Lights And Other Things To Do In Finland)
Day Six: Nov 14, 2019
| Day 1 | Time | Cost |
| --- | --- | --- |
| Arrival in Mingalar bus terminal | 6:30 AM (MMT) | Free |
| Taxi from bus terminal to Backpacker Hostel | 7:00 – 8:00 AM (MMT) | 10,000 MMK |
| Check in at Backpacker Hostel (2 nights) | 1:00 PM (MMT) | 34,800 MMK |
| City Tour (Walkathon), Late lunch, Sule Pagoda, Yangon Chinatown, Bogyoke Aung San Market 2:00 – 7:00 PM (MMT) | 2:00 – 7:00 PM (MMT) | |
It is said that Botahtaung is a great choice for travelers interested in trying the local street food, architecture, and city walks, so we chose to stay at Backpacker Hostel which is conveniently located.
This place is highly recommended even if it has a shared bathroom because it offers common area, free Asian breakfast, and free Wi-Fi. Most importantly, it is clean and has a cozy environment.
Locals in Yangon are called Yangonese or Yangonites. It has one of the highest concentrations of colonial buildings still in use today. You can see many pastel-colored buildings that have fascinating histories.
Yangon is modernized as compared to Bagan. We saw Sule Pagoda first, which is now the center of a traffic circle in the congested downtown roads.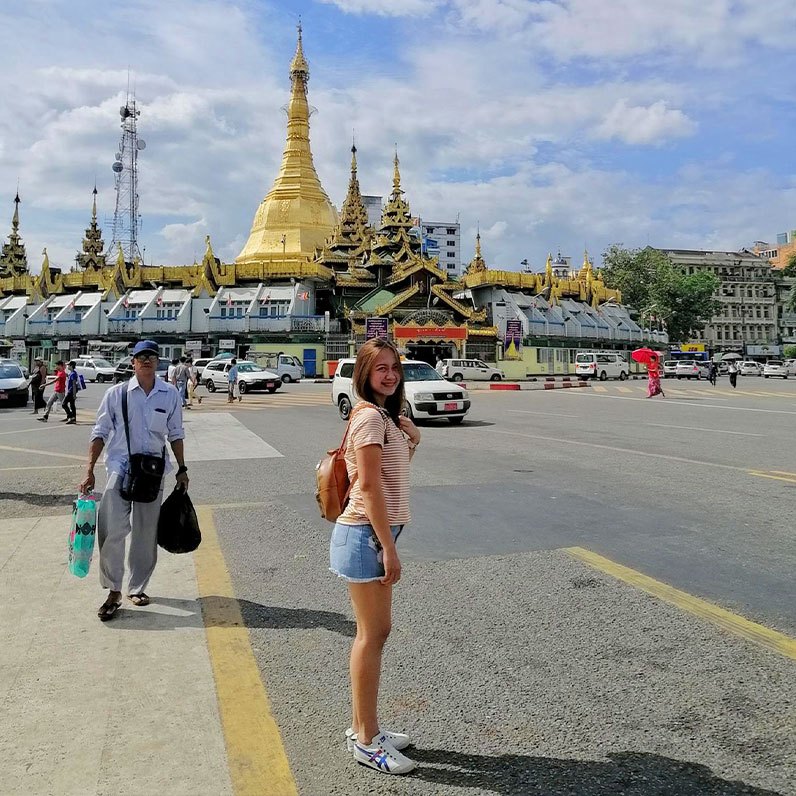 Next is Yangon Chinatown, where you can find take-away street food style stalls that fill the sides of the main road. There are also several restaurants which have full-sized tables and chairs (not the typical miniature plastic chairs) to sit at.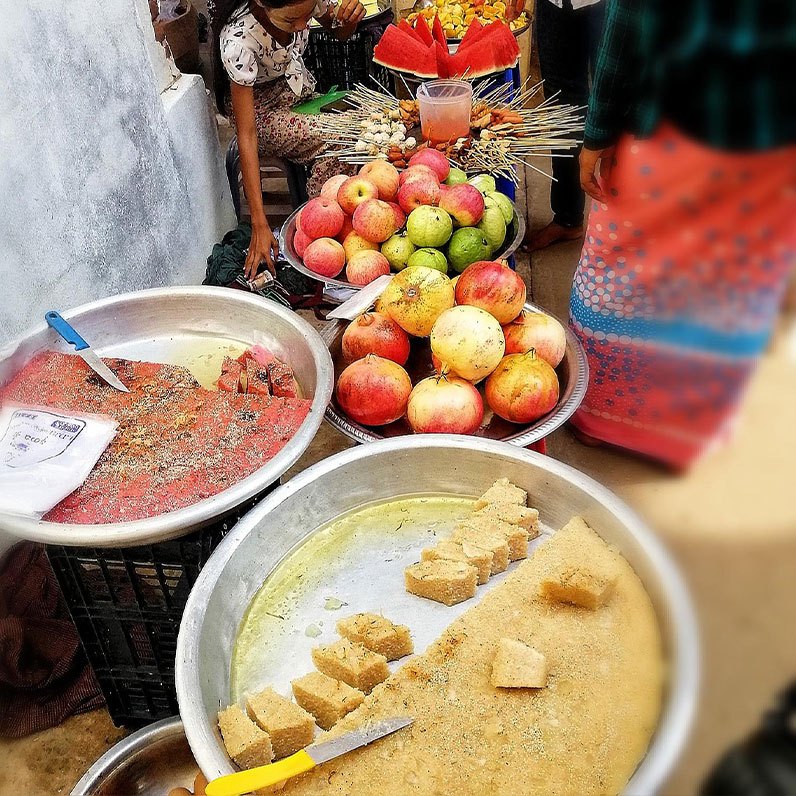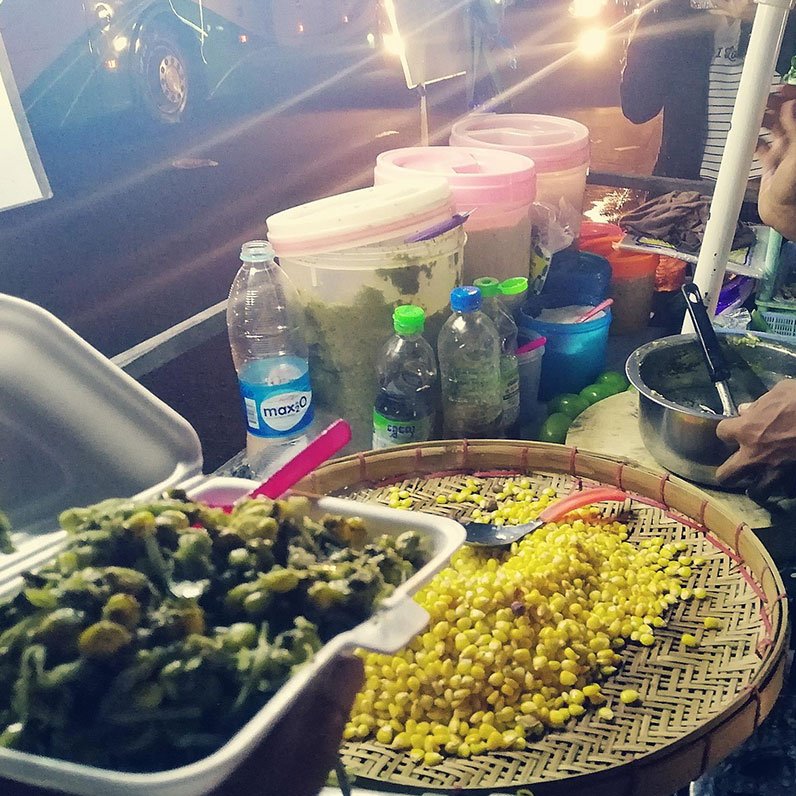 If you're looking for a place to buy the sarong-like longyi, (about 2,000 – 20,000 MMK), ethnic textiles, other items like jade jewelry, lacquer ware, and temple bells, you should explore the Bogyoke Aung San Market.
(Read: Steal My Itinerary: Six Days In Batanes)
Day Seven: Nov 15, 2019
| Day 1 | Time | Cost |
| --- | --- | --- |
| Breakfast | 7:00 – 8:00 PM (MMT) | Free |
| Yangon Circular Train | 7:00 – 8:00 AM (MMT) | 400 MMK |
| Shwedagon Pagoda | 3:00 PM (MMT) | 10,000 MMK (for tourists. locals are free) |
| Taxi Tour: Kandawgyi Park and Lake, St Mary's Cathedral, Downtown Yangon | 3:15 – 5:30 PM (MMT) | 10,000 MMK (divide by 4) |
The Yangon Circle Line Train spans the Yangon rural area and city, but it doesn't operate roundtrip to the city. It only costs a few dollars and taking about three-and-a-half hours, the Circle Line Train circumnavigates the city and is a great way to see Yangon.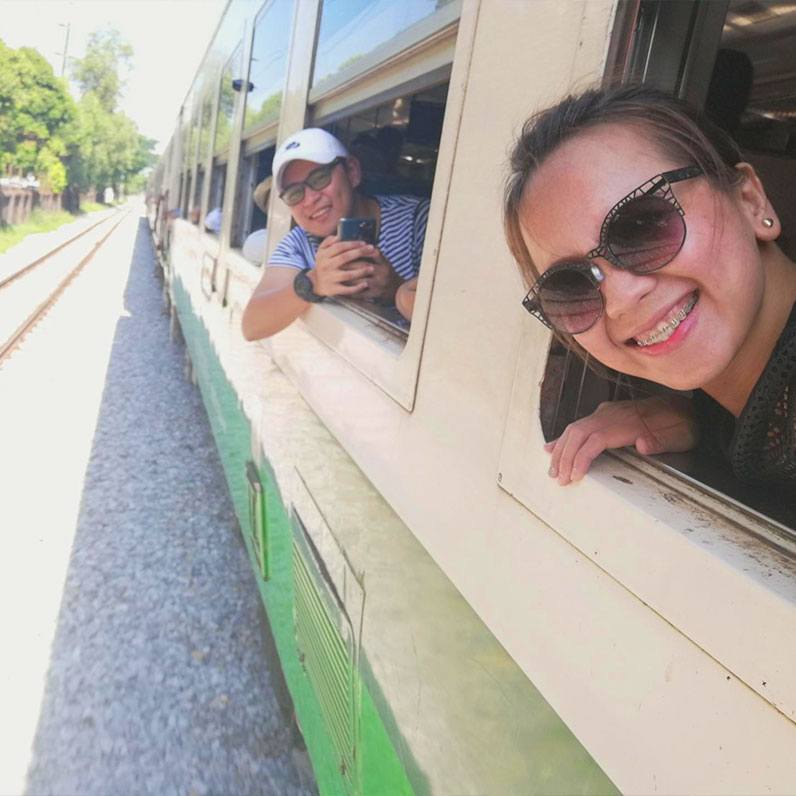 Locals in Yangon often take the train to get around, while local vendors use the train cars to hawk their food and wares. Try to get on one of the old, open-air trains to sit and watch the city. Taking the train in the middle of the day is also a great break from all the heat.
The train we took reminded me of old Japanese trains. Don't expect anything fancy around this area. You can buy cheap fruits here, and really see both sides of life in Yangon. Myanmar is a very vegetarian/vegan friendly country.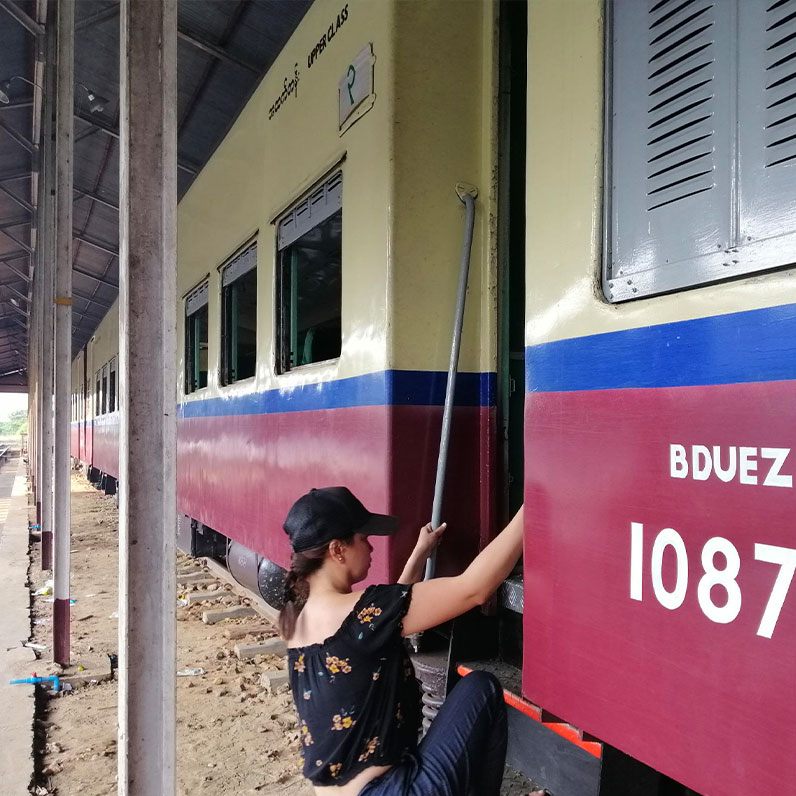 If you're not that queasy, you can try their carinderias (local food stalls), where they traditionally serve all the food with bare hands. Yes, even the rice. As for the restaurants, the average meal is around 5000 MMK, or P200-250. The desserts are sold on the street.
On the way to Shwedagon Pagoda, we saw a park and subdivision combined. We regret not going inside because we were already tired.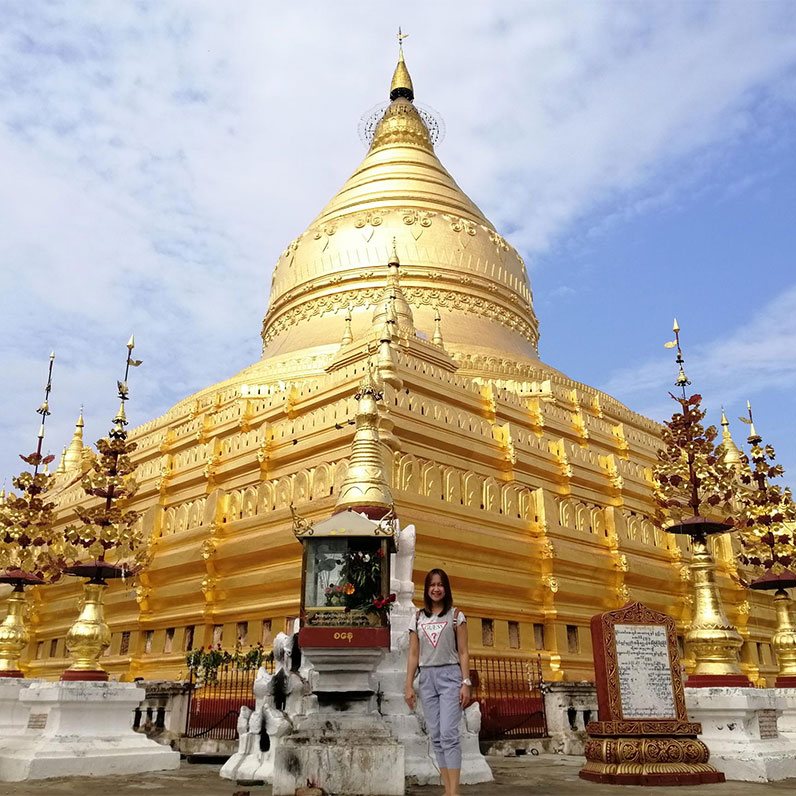 The Shwedagon Pagoda is plated with over 8,000 sheets of gold and studded with thousands of diamonds, rubies, sapphires, and other precious stones. This was the most awe-inspiring pagoda we've seen. The 300-foot stupa dominates the Yangon skyline.
The best time to go at the pagoda is at night. It's not hot, there's much fewer people, and the gold plates and lights give this place an almost dream-like glow in the dark.
Grab is available at the airport, but since we're on a budget, we opted for a taxi because we can haggle.
Myanmar travel tip: We learned this the hard way: If you have a connecting flight to Thailand, you're not allowed to go out of the airport, unless you pay to upgrade the ticket. We spent ten hours at the Don Mueang International Airport instead of buying more stuff from Thailand for pasalubong.
[metaslider id="107182″]