5 Apps That Easily Let You Earn Money At Home
5 min read
Looking for apps to earn money in the Philippines? The good news is there are a few of them.
For almost six months now, Filipinos have been battling the pandemic on numerous fronts. Aside from the devastating health effects of COVID-19, people also have to figure out how to survive the pandemic financially.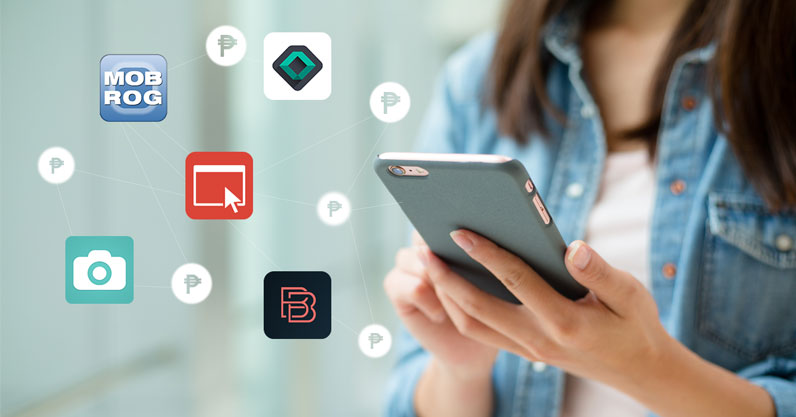 The past several months haven't been easy on anyone. The economy entered a state of recession and millions of Filipinos also lost their jobs. Even some beloved businesses became casualties of this health crisis.
Chances are, you've already thought of venturing into online selling as a way to make ends meet. But with the market already oversaturated and threats of scams are present left and right, it seems like earning in a time of quarantine is becoming increasingly difficult.
Fortunately, there are other ways to earn from home—and it does not include seeking employment from Facebook troll farms. Currently there are apps that can provide you with an opportunity to earn without leaving your home or averting your eyes from your smartphones. We've handpicked some moneymaking platforms so you know where to start.
Here are some apps that help you make money for extra income.
MOBROG
Operated by German market research firm Splendid Research, MOBROG is an online survey platform that is surprisingly available in the Philippines. Primarily, the platform helps companies between small and international scales to gather market intelligence and learn more about their potential customers.
Unlike its competitors that don't have a platform in the Philippines, MOBROG is available here. You can take as may available surveys as possible—and earn as much as ₱180 per questionnaire completed.
How to earn money from this app? Aside from earning by participating in surveys, you can also send a referral link to your friends and earn extra.
To start earning via MOBROG, you can simply go to their website using your computer or download the MOBROG app via Google Play or App Store. Once you've already accumulated a substantial amount in your account, you can transfer your earnings to a PayPal or Skrill account and forward the money to any local banking service you have.
Slidejoy
Some Android phones like Xiaomi and Samsung have become notorious for placing ads on a user's smartphone. Although advertisement is a way for providers to earn money, not everyone has figured out that the lockscreen—you know, the one we just swipe away and take for granted—is increasingly becoming the next prime real estate for ads.
This is where Slidejoy comes in.
By downloading this money-earning app to your phone, you are giving them access to your phone's lock screen and allows them to place some ads. Although some people might find ads annoying, this might change your mind: Slidejoy will virtually pay you for doing nothing.
Whether you dismiss an ad, want to see more, or get more information, you get paid an amount that accumulates over time. According to Slidejoy CEO Robert Seo, any action gets paid because they want their clients to get better leads.
To start earning, just go to the Play Store and download Slidejoy for free, install it on your phone, and learn to live with ads.
Read: 10 Profitable Business Ideas In The Philippines Amid The Lockdown
Userfeel
Established in 2010, Userfeel has been in the business of helping website owners develop a crisp, clean, and most importantly, user-friendly platform through customer feedback.
Although most clients are at the mercy of their web developers and user interface/user experience (UI/UX), Userfeel takes it a notch higher by allowing regular people to experience the websites and get feedback from ordinary people who don't have an experience in said fields.
To become a usability tester, you need laptop or desktop with a working mic because you will be recording your website journey based on predetermined scenarios. While testing the website, you must make a commentary on your experience. This will be used to further improve the platform you're testing.
Although this is more intensive and it can be difficult for your technologically challenged person, the rewards are sweet. Usually, a test will only last up to 20 minutes. And the pay? You will get ₱500 per test.
However, don't get your hopes up as they have a strict qualification test and a manual review of all applicants.
If you feel like you can take on Userfeel's challenge, go to the website now, download the app on your phone or laptop, and ace that qualification test.
Foap
To the uninitiated, stock photos are one of the lifelines of all creative industry. Without this service, every graphic designer must hire a photographer to take photos themselves.
Stock photos are a cost-effective way to procure digital assets that can be used for ads, web design, blogging, and other things.
Although stock photo websites have millions, if not billions, of photos, some of them feel too artificial for certain projects. This is where Foap comes in: They want to tap into your photo gallery for more user-generated photos that have an authentic feel.
If you like taking photos and you have a certain knack for curating your Instagram feed, it's time to create your Foap account. Just simply create an account, curate your profile, and start participating in missions. When brands like your photo, you will be compensated for it.
Don't let your photos just fill your smartphone. Make them work for you by making them fill your wallet as well.
Brandbassador
Do you have thousands of social media followers? What if the only that's stopping you from becoming an influencer is that you don't have access to the brands? If being a minor social media star is your bailout plan this pandemic, maybe it's time to get in touch with Brandbassador.
For starters, Brandbassador serves as a network between companies looking for a more intimate way to connect with fans and social media users with a high following count.
With Brandbassador, people with thousands of followers can monetize their Instagram and Facebook accounts by binding the two parties with an agreement.
Know other apps that help you earn money? Share them in the comments.