9 Times Your Mom Was Right About Money
3 min read
There's no better time to start practicing your #adulting skills than in your childhood, and it's good that we all have our parents as obligatory mentors early on. As financial advisor Suze Orman said, parents should "start teaching children about money the moment they are born… kids do not listen to what you say, they do what you do."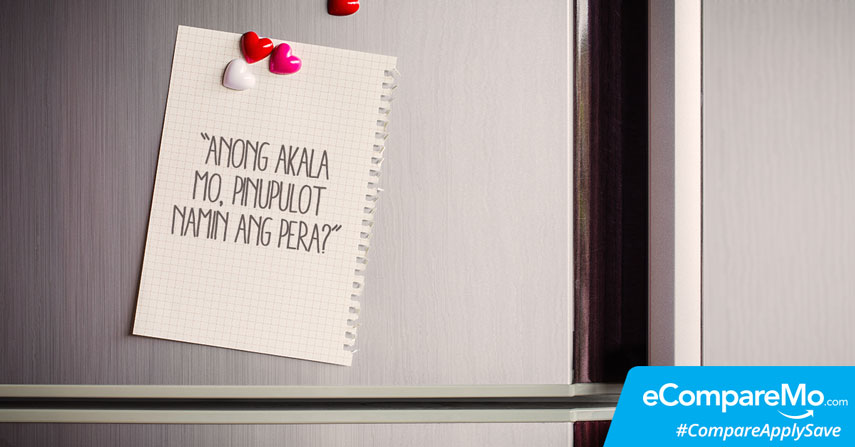 Mothers—and well, fathers, too—know best. Here are some words of wisdom that your parents likely imparted on you when you were younger. Don't these actually ring true?
1. "Mag-ipon ka. Huwag puro gastos."
Little things add up to something big. You'll be surprised at how much you'll get when small things are put together. If you set aside even P30 for a day for 365 days straight, you'll get P10,950 at the end of the year.
2. "Huwag mong kainggitan ang kapwa mo."
Envy is one of the root causes of uncontrollable spending habits, bad debt, and ill-managed finances. Steer clear of the non-essentials that other people can afford and focus on securing your future instead.
3. "Anong akala mo, pinupulot namin ang pera?"
If you want it, work hard for it. You probably heard this line from your mom when you wouldn't stop begging for a new toy or a pair of shoes. Now that you're earning on your own, you do realize that money is really a byproduct of blood, sweat, tears, and tax cuts.
4. "Bilhin mo lang yung kailangan mo."
Your parents wanted to gear you up for survival, and so they put food, shelter, utilities, clothing—as well as savings—on top of their priorities. It all starts with being honest with yourself about your "needs."
5. "Wag mong kalimutang patayin yung ilaw at tubig!"
Leaks in the faucet are tantamount to the little leaks in your pocket. Aside from the environmental harm it does, using up more water and electricity than what you need translates to heftier monthly utility bills, which really isn't good for your finances.
6. "Mag-ipon ka para makabili ka ng bahay."
Having somewhere to come home to is of utmost importance, and parents know this too well. While it seems next to impossible for you to buy a house in the city these days, it's important to provide shelter for your own family. It's an investment that pays for itself in the long run.
7. "Dalhin mo lang yung perang gagastusin mo."
This is a classic tip for those who want to avoid overspending. Now that you're older, you do know that the more cash you have in your possession, the more you tend to spend it on things you don't really need. Especially at end-of-season mall sales.
8. "Wag kang abusado. Noong panahon ko, piso lang ang baon ko."
It's very easy to point out that the difference between the currencies of today and the yesteryears. Talk about inflation and lifestyle changes if you will. But your mother is most likely teaching you to live within your means and she's right on point.
9. "Matuto kang maghintay."
Patience is indeed a virtue. It takes patience to earn money, and more patience to make it grow. There's a time to every purpose—a time to buy what you want, and a time to get a good hold of whatever money you have. And a time to keep silent when mom is talking and wait for your turn to speak out.
What's the most important life lesson your mom has imparted on you? Share it in the comments.