5 Things To Consider When Choosing Your First Credit Card
2 min read
Getting a credit card opens you to a world of perks, exclusive rewards, and privileges. More than the convenience of cashless transactions, it's a great way to manage your finances through building a good credit score.
If you're ready to own your very first credit card, take these five things to heart when shopping for your first pick.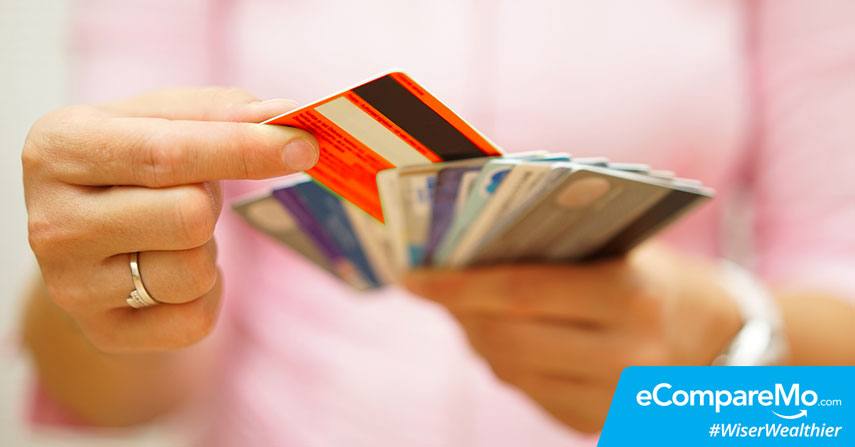 1. No annual fee
As you're only starting to learn about the responsible use of your credit card, it's best to choose the one with waived Annual Membership Fee (AMF).
Some cards offer first-year waived AMF, or are AMF-free for a certain annual spend, but credit cards like AUB Easy Mastercard offer free for Life Annual Membership Fee, giving you complete freedom to use your card and make the most of its privileges.
2. Low interest rates
Not only are low interest rates good for easier balance fulfillment; it's also about choosing to save more money in the long run.
AUB Easy and Classic MasterCard currently has the lowest interest rate for a credit card right now at 2.95%.
Most credit cards in the Philippines apply an average interest rate of 3.25% to 3.50%. It's important to consider the interest rate especially if you will not be able to pay the full amount or the total amount due. There may be times that you may be a bit low on your budget, so it helps if your credit card has a low interest rate.
3. Flexible payment options
Find the credit card that will bring the most convenience, like the power of choosing your own payment cycle right after payday, and setting your own minimum monthly payment.
AUB Easy Mastercard lets you pay once or twice a month—and if you're the diligent type, you can settle your dues on a weekly basis too.
This makes your credit card settlement date so much easier to remember because you set it up yourself.
Here's a table showing how you can choose how often to pay, when to pay, and how much to pay: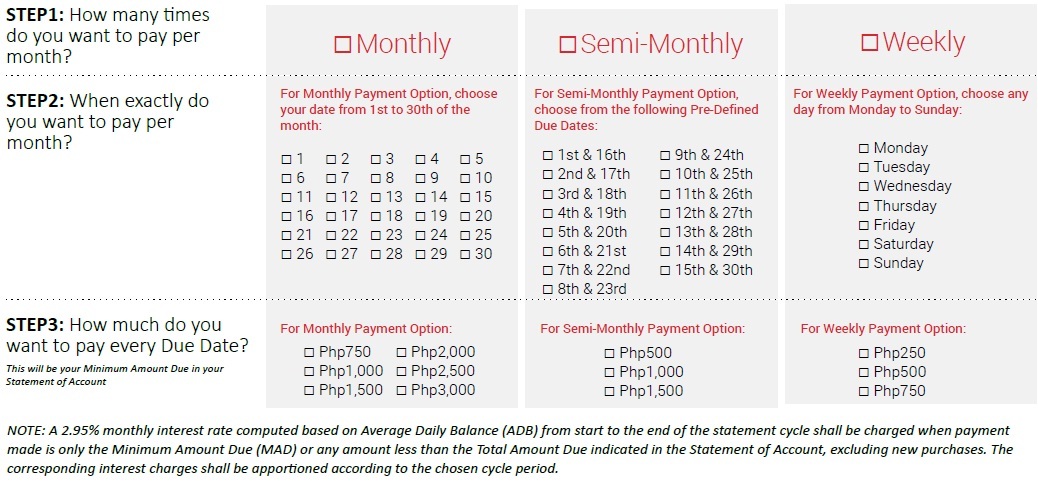 Choosing this first-of-its-kind flexible payment option already sets you miles ahead of building a solid credit score.
4. Credit card rewards
Maybe your jet-setter friend isn't always spending most of his hard-earned money for travel. It could be his rewards points and air miles that got him to his newest travel adventure.
You'll discover that just by using your card and maintaining a good credit record, you'll be earning travel rewards, discounts, freebies, and even cashback.
For credit card first-timers, find one that lets you earn points for every spend. AUB Easy Mastercard lets you earn one (1) Rewards Point for every P20 spent. These points will earn you gift certificates in shopping and dining, and GetGo points with Cebu Pacific, among others.
Best of all, these points don't expire, so shop away!
5. Advanced security features
Often overlooked, up-to-date credit card security features should be one of the most important factors to consider.
The AUB Easy and Classic Mastercard is EMV-chip compliant, and it comes with SMS alerts so you're informed of suspicious, fraudulent, or unauthorized transactions on your account. The Mastercard Secure Code in AUB Easy and Classic Mastercard is set up as an added step for authentication when purchasing online. It provides an additional security by providing a one-time password (OTP) for every online transaction with Mastercard Secure Code accredited merchants.