5 Metro Manila Road Traps To Avoid
4 min read
Metro Manila being a driver's nightmare is now a widely accepted fact. And that is not just some fake news created to besmirch the powers that be: Senator Loren Legarda said that the country is already about to lose P6 billion daily from traffic jams while navigation app Waze ranks Manila at the bottom of its Driver Satisfaction Index for last year.
While policymakers only see the situation from their ivory towers and convoys, those who brave the traffic daily must deal with the realities of driving here, like erratic drivers and muddled road rules. One of the most ruthless forms of traffic mismanagement is the presence of road traps.
To those who do not know what road traps are, these are lanes that prevent a driver from making a turn or change of lane and sends him instead to a portion of the road where accidents—or worse, traffic cops—are waiting. Usually, these are sections of a road where there are insufficient or inconspicuous road markings, poor management, or just plain ignorance of driving and they lead to driving behavior that is deemed in violation of some ill-conceived rule. Find yourself in these areas and you'll see a traffic constable waiting and eager to issue you a ticket.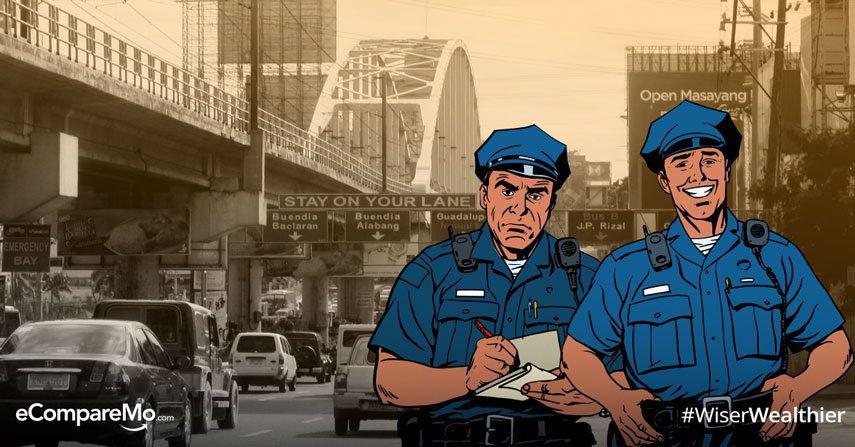 To fight against road traps and avoid unnecessary dealings with traffic cops, one online good Samaritan pointed out some of the most cunning examples found in Metro Manila on his blog and Facebook page. Aptly titled "Road Traps in Metro Manila," this anonymous poster is the hero we both need and deserve to help make our hellish driving more amenable. We picked a few examples from the blog to help you avoid these traps and save yourself from meeting the 5-0.
1. EDSA Southbound coming from Ayala Avenue
Location: Makati City
Turning from Ayala Avenue to EDSA Southbound can be quite a challenge for private vehicles. If you're coming from Ayala Avenue and you made a right to EDSA Southbound, you must make it to the inner lanes no matter how hard it is.
Turns out, the signs right underneath the MRT 3 Ayala Station indicate that the right half of EDSA Southbound is PUV only and there's a small and dilapidated sign there that points out where private vehicles should be. If you fail to make it to the leftmost lanes, even if there are less than 100 meters from your turn to make it, then there's no way to navigate outside the PUV-only lanes.
2. Gil Puyat Avenue cor. Osmeña Highway
Location: Makati City
There's an imaginary yellow box at the corner of Malugay and Osmeña Highway, immediately right past Gil Puyat Avenue. Fresh off your turn from Buendia, you will encounter a traffic light without road markings indicating where to stop. News flash: this is a road trap.
If you see the traffic light turning yellow, don't try to beat the red light since it's still a stretch from one end of Malugay's corner to the next. If you do that and you go beyond the mini corner that can only fit a single car per lane and you hit the red-light, Makati's finest traffic police will be waiting for you at the other side.
3. Radial Road 9, right under Quintin Paredes Flyover
Location: City of Manila
If you come from Quezon Bridge and you're on your way to Malate or Ermita, chances are you'll just go straight ahead and follow the road until all roads converge to Taft Avenue. However, there is one police trap there that you cannot escape.
Right after you exit Quezon Bridge and before you make it under the Quintin Paredes Flyover that stems from Sta. Cruz, stay on the leftmost lanes. If you reach that portion you'll find yourself on the rightmost lanes where a cop will apprehend you for obstructing a PUV terminal—despite no warning signs present before you arrive at that point.
4. Osmeña Highway U-turn, near PNR Buendia Station
Location: Makati City
Not all road traps involve waiting traffic cops. Sometimes, some roads are designed so badly they will inadvertently put you in a place with higher chances of accidents. Take this U-turn slot on Osmeña Highway. Vehicles coming from the south (SLEX) who need to make a U-turn aren't allowed to use the slot near SM Hypermarket.
Unfortunately, there is no sign that will warn northbound motorists to not take that U-turn slot. Aside from the lack of any warning whatsoever, the curve is also designed to look like northbound drivers can use the slot themselves. Aside from a traffic cop waiting on the other side, the bigger problem is that it's prone to head-on collision with legitimate U-turn slot users.
5. EDSA Northbound, right before MRT-3 Araneta Center-Cubao Station
Location: Quezon City
Since 2016, the MMDA banned private cars from using the EDSA bus lanes. However, this becomes inevitable if you're going to, say, turn to either side of Aurora Boulevard. For convenience, you can use the service road that will lead you inside Araneta Center, but it closes at 12mn. What happens then if you miss this and you're almost at the bus lanes?
If you find yourself right after EDSA cor. P. Tuazon Boulevard, use the leftmost lane so you can get out of the bus lane ban scot-free, and then make adjustments depending on where you're turning. If you forget this and use the middle or rightmost lane, then you're funneled to the place where traffic constables are waiting.