20% Student Discount On Flights, 'Build, Build, Build' Update, And Other Financial News
6 min read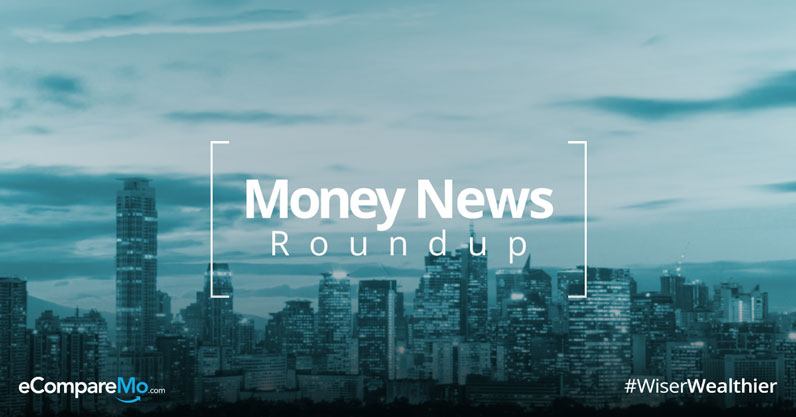 Bill Mandating an "Educational Bond Fund" for College Students Awaits Plenary Approval
A new law ordering the Bureau of Treasury (BTr) to grant an "Educational Bond Fund" for college students was endorsed by the House Committee on Higher Education for plenary approval.
Developed by Bicol Representative Joey S. Salceda, House Bill 1219, also known as the Capital for Higher Education seeks to establish a law that will guarantee that every Filipino will be able to push towards higher education by providing the expected amount of resources for their college education needs.
The proposed law directs the BTr to distribute an equivalent number of treasury bonds amounting to P25,000 each at an 18-year maturity term. This will be in support to deprived mothers which accounts to all of their newborns.
"We estimate that out of the 1.7 million babies born per year, about 383,000 are born to poor families. This amounts to about P10 billion per year," as stated by Bicol Representative Joey S. Salceda.
According to him, the main goal of the measure is to establish a system that will be responsible for the allocation of government securities, or treasury bonds, which will guarantee future funding, and will allow underprivileged Filipino youth to get a college education, thus equalizing prospects for their development.
The said law opts to function as a turnout plan, dedicating all of its profits to one of the most crucial needs of the future, a college education.
All proceeds on the bond under the proposed bill shall be collected and then invested in government securities. The revenues will be collected and kept by the National Treasurer under the fund called "Educational Bond Fund".
This will then be opened once the child seeks to enroll in college, on the condition that, after an assessment by the Department of Social Welfare and Development (DSWD), their families will fall below the underprivileged line.
The initial fund will be amounting to P25,000, and when accumulated within over 18 years will total to P150,000.
Representative Salceda also added that the proposed bill will not affect the deficit until the 18th year and is stretched for over four years.
"It will be divided into four equal releases to the beneficiary, which he can use to support school expenditures and other costs of tertiary education, or any part or portion thereof. Release of the amount to the beneficiary shall be subject to conditions," he said.
"In the short term, it will merely add P10 billion to debt load every year which can easily be accommodated by the 42% national government debt-to-GDP ratio which is the lowest in the region," he added.
Bicol Representative Salceda reiterated that education is perceived as a pressing factor that will assist students in competing for finer pursuits and better earnings.
(Read: Private Hospitals To Opt Out Of PhilHealth, QC The Most Competitive LGU, And Other Money News)
CAB Approved: Students Can Now Avail 20% Discount on All Domestic Flights
The Civil Aeronautics Board (CAB) has now approved the 20% discount on all domestic airfare for students under the implementing rules of RA 11314.
RA 11314, also known as the Student Fare Discount Act, was signed into law last July.
From November 1, 2019, onwards, all Filipino students enrolled in either elementary, secondary, higher education, and technical-vocational institutions are entitled to a 20% discount when using public transport, this includes regular domestic flights.
The CAB resolution stated that discounted fares will be applicable for the entire period the student is enrolled, including weekends and holidays. The discount, however, is not applicable for flights under promotional or sale prices.
Students who want to avail of the discount shall present their identification cards such as school ids, validated enrollment forms, birth certificates, baptismal certificates, form 137, naturalization certificate, or passport upon purchase of the tickets.
According to CAB, respective airlines who wish to create their own set of rules and regulations, as well as verification measures, can do so, but this will all be under the approval of the committee.
Also, those who will be caught altering identification documents shall be penalized under the law.
(Read: Tax Payment App Contest, Update On Bank Secrecy Law, And Other Financial News)
Revised List of Flagship Projects in the Infrastructure Sector Approved by NEDA
The revised list of 100 infrastructure flagship projects (IFPs) presented by President and Chief Executive Officer and Presidential Adviser for Flagship Programs and Projects Secretary Vince Dizon was approved last Wednesday (November 6) by the Committee on infrastructure (INFRACOM).
Approval was given at the Cabinet-level as well as the Investment Coordination Committee-Cabinet Committee (ICC-CC).
"Continuity is what is most important for President (Rodrigo) Duterte. This is why all of the 100 flagship projects will be started under his term, with a significant number completed while some will be partially operational by 2022. The rest will have significant progress moving into the next administration," as per Secretary Dizon.
Five different categories will be covered by the said flagship projects prioritizing Transport and Mobility, with Information and Communications Technology, Power, Water, and Urban Development and Renewal as the other four categories included.
The list which will be evolving from the Metro Manila Subway Project, Samal Island-Davao City Connector Bridge, North South Commuter Railway, Mindanao Rail Project, Clark International Airport Expansion Project, Panay-Guimaras Negros Bridge, and the Cebu Monorail System.
New projects at national and regional importance are also planned to be included on the list in the future.
"The swift implementation of these flagship projects is paramount to us and this sentiment is shared by the Filipino people; and the government, with the help of the private sector and our partner international agencies, will deliver," stated Secretary Dizon.
The total cost of the project under the Build Build Build Program of the government is approximately P4.2 trillion. This will be composed thousand of other infrastructure projects which will be continuously implemented from Luzon to Mindanao and all over the country.
"The Build, Build, Build program was never just about the Duterte administration. It's about building for the future to propel the Philippines to a developed-country status by 2040 and make the lives of Filipinos more comfortable," he said.
26 out of the 100 projects will be pushed under the Duterte administration on Public-Private Partnerships (PPP).
(Read: Marcos Bridge Reopening, Tikling Junction Fiasco, And Other Motoring Stories)
TransferWise Now Starting to Process International Payments, Links Up with PH E-Wallets
TransferWise, one of Europe's best-funded financial technology companies, is now processing international payments. They are including Asian digital wallets on their growing list of alternative bank accounts.
As per TransferWise's Chief Executive Officer Kristo Käärmann, the company's bid to include e-wallets from Indonesia and the Philippines on their roster is a shift on how they do business, as they mostly only allow cross-border payments between different bank accounts.
"It's a recognition that maybe in the future we will view wallets the same as bank accounts," as stated by COO Kristo Käärmann.
In the whole Southeast Asia region, more than 150 digital wallets are already striving for market share. Even more are found in China, India, and South Korea, which are more developed and rigid countries.
In the Philippines however, TransferWise users can proceed with payments through E-wallets such as GCash and PayMaya, which will give them a total of more or less 150 million users collectively.
"International remittance is one of the Philippines' key economic contributors. We always welcome opportunities to collaborate with leading global companies to make that happen," according to PayMaya Philippines Managing Director Paolo Azzola.
With 65% of the Filipinos being unbanked, TransferWise will initially process payments through E-wallets with the use of a third-party intermediary, thus having a backup plan of allowing international payments out of E-wallets in the future.