11 Pieces Of Financial And Management Wisdom From Henry Sy
2 min read
The financial industry is still reeling from the loss of financial titan and SM Investments Corporation founder Henry Sy.
Lauded as the richest Filipino for years by business magazine Forbes, Sy built his business empire through malls, condominiums, supermarkets, and banks, among others. Whatever your needs are, he made sure that he's got it all for you.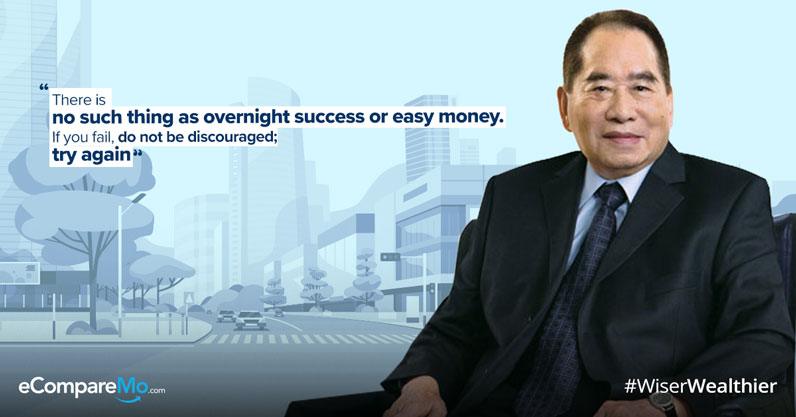 It is no secret that Sy came from humble origins before he created companies that have a valuation of fifteen digits. Despite the changing times and the crises faced by the economy, his businesses withstood the test of time and emerged more successful than before. To celebrate the life and legacy of Henry Sy, we handpicked some of the great quotes the taipan has shared to the people throughout his life.
1. On thinking ahead:
"We don't do things six months, one year ahead. We always look at what can be five years from now."
2. On the recipe to success:
"Success is not just good luck: it is a combination of hard work, good credit standing, opportunity, readiness, and timing. Success will not last if you do not take care of it."
3. On failure:
"There is no such thing as overnight success or easy money. If you fail, do not be discouraged; try again."
(Read: How These Billionaires Made Their First Million)
4. On walking the talk:
"While I am not big with words, I am big and bold in dreams and vision. By nature, I am curious and adventurous. I like the excitement of change and new and better ideas. I look for excellence in performance."
5. On strategy:
"Doing a mall is not only construction of the physical place: what is important is the merchandising mix. We strive to serve the convenience of the public. We want shopping at our malls to be a unique and an enjoyable experience."
6. On consistency:
"When you do well, do not change your ways."
7. On satisfaction:
"Not everything I do is purely for money. Of course, as a businessman and as head of publicly listed companies, we have to earn, but at this point in my life, there are other considerations more important besides just money."
8. On creating the winning formula:
"My businesses are all related – retail, shopping centers, banking, real estate, and tourism development. Together they create synergy."
9. On momentum:
"You have to have a dream, whether big or small. Then plan, focus, work hard and be very determined to achieve your goals."
10. On sacrifices:
"I never imagined attaining big success. Whatever I have achieved did not happen overnight; ever since my teen years I have devoted many, many years of my life to non-stop studying, diligent work, and dreaming of a better future."
11. On opportunities:
"Opportunity is where you find it, not where it finds you. Crisis and weakness indicate one can look for opportunities. Transforming problems into opportunities can bring good returns."