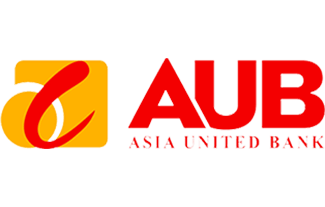 Asia United Bank (AUB)
Established as a joint venture between Filipino industrialists and Taiwanese financial companies, Asia United Bank (AUB) is among the few banks granted a full-branch commercial bank license in 1997. In 2013, AUB became publicly listed and acquired universal banking status.
As a commercial and universal bank, AUB has been granted the power to operate as an investment house and invest in allied and non-allied enterprises.
AUB offers a wide range of products catering to consumers and businesses: deposits, corporate and consumer loans (auto, home, salary, and commercial) and cash management facilities.
AUB continues to uphold high standards and best practices for their management and staff, shareholders, and other stakeholders.
With a stronger commercial and consumer loan portfolio, the group's total assets increased 18.8 percent from P105.046 billion as of December 31, 2013 to P124.793 billion as of December 31, 2014.