The results for the November 2017 Philippine Bar Examination are out.
Out of the total 7,227 law school hopefuls, a quarter of the exam takers passed with flying colors.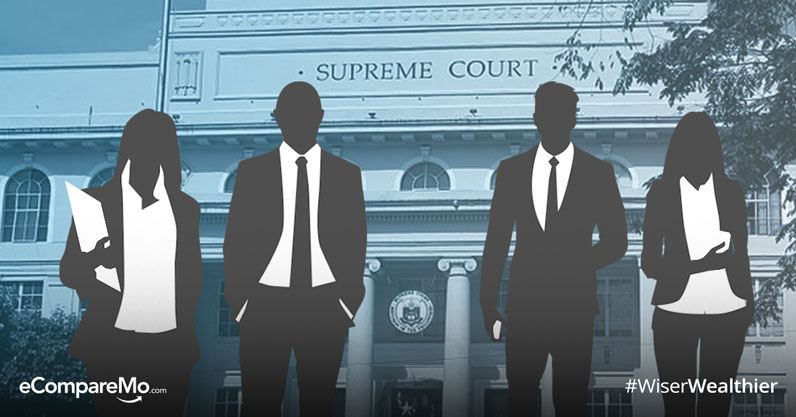 This year's topnotcher, Mark John Simundo of University of St. La Salle bagged the highest score for his batch with a rating of 91.05 percent. In second place is University of San Carlos' Christianne Mae Balili with 90.80 percent and Camille Remoroza in the third spot with a rating of 90.70. The rest of the top 10 bar exam passers are the following:
| Rank | Name | School | Rating |
| --- | --- | --- | --- |
| 3 | REMOROZA, Camille B. | Ateneo de Davao University | 90.70 |
| 4 | HISOLER, Ivan D'laureil I. | University of San Carlos | 89.55 |
| 5 | YAP, Monica Anne T. | San Beda College – Manila | 89.45 |
| 6 | GAYYA, Lorenzo Luigi T. | University of Sto. Tomas | 89.10 |
| 7 | SERVACIO, Rheland S. | University of San Carlos | 89.00 |
| 8 | ALCANTARA-BAGNI, Krizza Fe P. | St. Mary's University | 88.90 |
| 8 | MARIACOS, Algie Kwillon B. | San Beda College – Manila | 88.90 |
| 9 | TORRALBA, Klinton M. | University of Sto. Tomas | 88.65 |
| 10 | AGUILAR, Emma Ruby J. | University of Sto. Tomas | 88.40 |
In an interview with ABS-CBN News, the current topnotcher revealed that he devoted up to nine hours every day reviewing cases and lectures. As November drew near, he said the time he spent buried under a mountain of readings was almost half a day!
If him bagging the highest score in the bar doesn't impress you, keep in mind is actually a registered nurse and he also already finished a nursing degree with distinctions!
Placing first in the bar is a huge deal—for the topnotcher, their family, and their law school. It's usually a sign of not just law acumen, but also the drive to succeed and an ability to focus that not everyone shares.
In this post, we take a look at the bar topnotchers of the past. See for yourself, what it took to become a bar topnotcher and what the next hopefuls need to be prepared tp do.
2016 Bar Exam topnotcher: Karen Mae Calam
Last year, eager spectators were surprised when Karen Mae Calam of the University of San Carlos bagged the first place.
Prior to acing the 2016 Bar Exam, Calam was already working as a certified public accountant at one of the top firms in the Philippines.
In an interview with ABS-CBN News, she said she studied law "to expand her horizons and accept bigger challenges."
2015 Bar Exam topnotcher: Rachel Angeli Miranda
A journalism graduate from the University of the Philippines in 2010, Rachel Angeli Miranda used to work as an editorial production assistant for a local broadsheet before she went to law school.
After she passed the UP Law Aptitude Exam, she quit her job and devoted everything to become a lawyer. Fast forward to 2015, she clinched the first place at the 2015 Bar Exam with an 87.4 percent rating.
2014 Bar Exam topnotcher: Irene Mae Alcobilla
A Rappler report revealed that the 2014 Bar Exam topnotcher Irene Mae Alcobilla of San Beda College used a tragedy that struck her family as motivation.
In 2008, Typhoon Frank washed away her home in San Remigio, Antique. She didn't just lose her home, her mother and brother lost their lives. What she didn't lose was her dreams of becoming a lawyer.
She topped the 2014 Bar Exam with a mark of 85.50 percent. The San Beda College of Law alumna now teaches law classes at two universities.
2013 Bar Exam topnotcher: Nielson Pangan
Call him a dark horse if you want, but 2013 Bar Exam first placer Nielson Pangan admitted that he wasn't a straight shooter when he was still a law student.
Although he was 96th in his class at the UP College of Law, he found himself at the top of the world when he became the topnotcher. Pangan now works for the government and teaches legal classes in several universities.
2012 Bar Exam topnotcher: Ignatius Michael Ingles
Despite shuffling his efforts between football and law school, Ignatius Michael Ingles of the Ateneo Law School still aced the Philippine Bar Examination in 2012
In a sit-down interview with Rappler, he revealed that a lot of things he learned from football were also applicable in his life as a law student. Currently, he's an associate at his father's law firm and a law professor in a few colleges.
Destined for greatness? Topnotchers who made history
Historically, some of the greatest leaders who ever graced the Philippine government were bar topnotchers. The presidents and vice presidents who aced the Bar Exams were the following:
Manuel A. Roxas – first place, 1913 Bar Exams
Diosdado P. Macapagal – first place, 1936 Bar Exams
Ferdinand E. Marcos – first place, 1939 Bar Exams
Jose P. Laurel – second place, 1915 Bar Exams
Elpidio C. Quirino – second place, 1915 Bar Exams
Sergio S. Osmeña – second place, 1903 Bar Exams
Carlos P. Garcia – seventh place, 1938 Bar Exams
Emmanuel N. Pelaez – first place, 1938 Bar Exams
Arturo M. Tolentino – second place, 1934 Bar Exams
In 1944, two of the greatest statesmen of all time, namely Jovito R. Salonga and Jose W. Diokno, tied for the first place with a 95.3 percent ranking.
Salonga, a former senator and chairman of Presidential Commission on Good Government, was dubbed as "the greatest president we never had." Meanwhile, Jose W. Diokno was also a high-ranking government official who became the founder of the Commission on Human Rights.
Whether we can expect as great a things from the bar topnotchers of the 2000s is yet to be seen, but just passing the bar is an accomplishment in itself. So congratulations to the topnotchers of 2018 and the other mentioned here. The country is hoping for great things from you.
About the author
---