There are currently 15 kinds of Metrobank Credit Cards to choose from. It's easy—and perfectly understandable—to get lost in the details especially if it's your first time to apply for one.
As the second largest bank in the Philippines in terms of total assets, Metrobank, specifically Metrobank Cards, is top-of-mind when it comes to market-specific cards—notably, women-centric card with rewards to match the independent women's lifestyle. But there's so much more than that.
Here's a quick guide for those who are thinking of applying for a Metrobank Credit Card.
What are the types of Metrobank Credit Cards?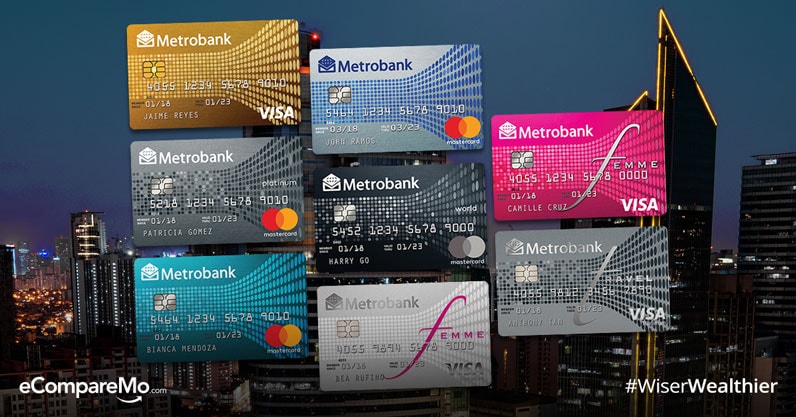 Below is a list of the 15 kinds of Metrobank Credit Cards:
Metrobank Peso Platinum Mastercard
Metrobank World Mastercard
Metrobank Travel Platinum Visa
Metrobank Femme Signature Visa
Metrobank Dollar Mastercard
Metrobank Femme Visa
Metrobank Classic Card
Metrobank M Free Mastercard
Metrobank M Lite Mastercard
Metrobank Gold Card
Toyota Mastercard
Robinsons Mastercard
Metrobank Femme-Icanserve Visa
Psbank Credit Mastercard
The Bistro Group Visa
Rewards and features are not the only qualities that make a Metrobank Card one of the best on the market. Security is also of utmost importance.
For instance, you can shop online safely with the Metrobank ON Internet Mastercard extension credit card. This is the perfect "checkout" buddy, as it provides a more secure way of protecting the cardholder's main credit card from fraud.
How do you know which Metrobank credit card is best for you?
By doing your own diligent research. A credit card is your best friend when used right, especially when it matches the lifestyle you have. Are you more of a jet-setter? Or a strong, independent woman who knows what she wants? After making a quick lifestyle assessment, it's best to compare the Metrobank credit cards online.
How do I apply for a Metrobank Credit Card?
After you've picked your Metrobank card of choice, you'll need to check your eligibility. Prepare a copy of your document requirements and submit them in a timely and organized manner.
What are the eligibility requirements?
These are the main Metrobank Card eligibility requirements. Note that they may vary per type of credit card.
Applicant must be a resident of the Philippines, between 21 and 65 years old
Minimum annual income varies per card type. Refer to our credit card comparison tool for more details.
What are the document requirements?
Completely filled-out application form.
Valid, photo-bearing government IDs, such as the following:

Passport
PhilHealth Card
Police Clearance
Driver's License
SSS/GSIS ID
Postal ID
NBI Clearance
Voter's ID
PRC ID
A valid company ID, to be submitted along with a government ID
Copies of other credit card/s, and at least one year in use with good credit standing
For employed applicants:
One month latest payslip/s
Latest Income Tax Return (ITR), stamped by BIR, and/or BIR Form 2316 signed by the employer
Certificate of Employment
For self-employed applicants:
Most recent audited financial statements. Stamped by bank or BIR
Copy of SEC documents, or DTI business registration
When will I get my Metrobank Credit Card?
The sooner you submit your complete documents, the sooner your credit card application is processed. A credit card application usually takes around one to two weeks.
About the author
---