Get A Krispy Kreme Treat With Your Citibank Credit Card
1 min read
Use your Citibank Credit Card and get more treats from Krispy Kreme.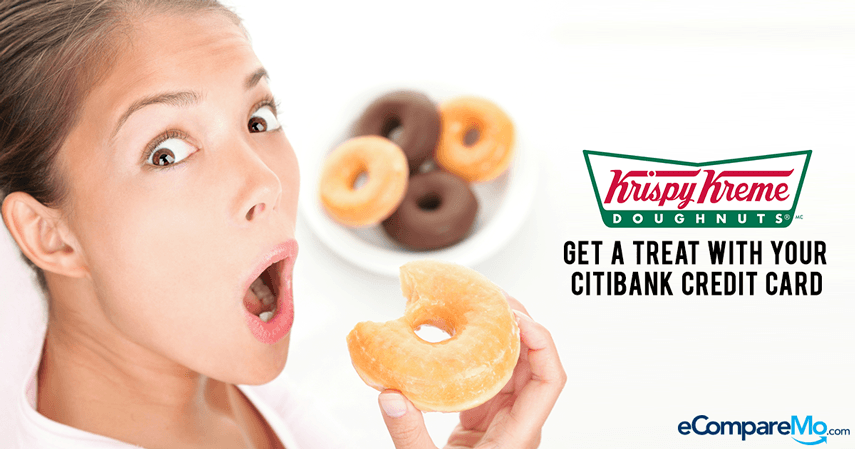 Buy six (6) Original Glazed doughnuts with your Citi Rewards Points and get 6 additional doughnuts for FREE. This Citibank Credit Card Promo is valid until December 31, 2015. Partial and 100% Pay with Points transactions are valid for this promo.
Pay with Points is available to Citi Rewards, Classic, Gold and Platinum Cardholders. 10 Rewards Points = Php1.
CITIBANK-KRISPY KREME GIFT WITH PURCHASE PROMO
The promo is open to all Citi Core Platinum Visa, Gold, Classic and Rewards Principal Cardholders ("Cardholders"), whose cards have been locally issued by Citibank, N.A. Philippines ("Citi"), are active and in good credit standing, and who are not prohibited under the applicable Gifts, Anti-Bribery and Corruption laws, regulations and policies from participating in and/or qualifying for this promo.
The promo is valid until December 31, 2015 at participating branches of Krispy Kreme.
To avail of the free box of six (6) Original Glazed doughnuts, qualified Cardholders must purchase one (1) box of six (6) Original Glazed doughnuts using their Points.
Any amount that is not covered by or not paid through Points should be paid by the Cardholder using his/her qualified Citi card. If a portion of the cost of the item is to be charged to the Citi Card, the Cardholder must have available credit line for the same amount on the Citi Card. The portion charged to the Citi Card will generate further Points.
Valid for dine-in and takeout only.
The gift is not convertible to cash or credit and cannot be exchanged with other goods or services.
The offer is not valid in conjunction with other discounts, privileges, promotions of the The Real American Doughnut Co.
All transactions are subject to the terms and conditions of the Card Agreement and all related provisions of the Program.