It's always the good-looking people who win, so they say. Even numerous studies back this claim.
The male-female dynamic is already complex in itself–with money playing a big role. We can only dream of the typical telenovela formula where the heiress falls in love with the average joe and picks him over the filthy rich, hot guy. Or think Alessandra DeRossi and Empoy smooching in recent Pinoy indie rom-com Kita Kita.
Si EMPOY na talaga ang basehan ng kagwapuhan.. Hindi kailangan ng gwapo ang importante ung napapasaya ka :) :) "Kita Kita"

— Engr. Thalaness (@christalaness) July 24, 2017
While a lot of men complain about being both "friendzoned" and broke, a dashing debonair has a lot of opportunities to get a girl not only with his jaw-dropping looks.
According to Smithsonian.com, "The extra kicks are more likely to come from economic benefits, like increased wages." Ouch, the competition has just toughened up. But Filipino men are not known to be quitters. They're one to say "challenge accepted."
Does the average-looking man need to shed more cash (aside from the valiant efforts) to keep up with the "guapo since birth"? Let's hear men spill their thoughts on Twitter.
ang gastos at high-maintenance maging panget.

— yukito (@Eeetaan) May 24, 2017
Equality is a tough battle cry.
Pag maganda ang kainuman, sagot mo lahat ng gastos. Pag panget, ambagan? Nasaan ang hustisya? #justice

— Miguel Carlos Pel (@pelmiguelcarlos) May 4, 2014
Trips to the dermatologists: Pains your face, and your pocket too.
Ang sakit, hirap, at gastos pala magpagwapo lalo na kung hindi ka naman talaga gwapo ??‍♂️

— Abe (@kenagvinarao) July 13, 2017
Whatever it takes to get that coveted "kutis artista" look.
tiis gwapo kuno ? para tuluyan na kuminis mukha ko ?

— Kyle Villamin (@villaminkyle21) July 19, 2017
Facial day ngayon. Sasabihin ko sana tiis-gwapo na naman. E hindi naman gwapo kaya tiis lang. ??

— Choy (@johnwlbr) July 1, 2017
Tiis gwapo sa derma roller. Haha ang init na makati na mahapdi. Haha.

— GB Cruz ☝ (@gbxcelo) June 23, 2017
"Shave lang? Kulang!"
i shaved, ba't ganun? di pa rin pogi? natural na panget talaga ako..

— Gerard Edwards (@gerrardedwards) January 28, 2014
Banking on decent looks is a must these days.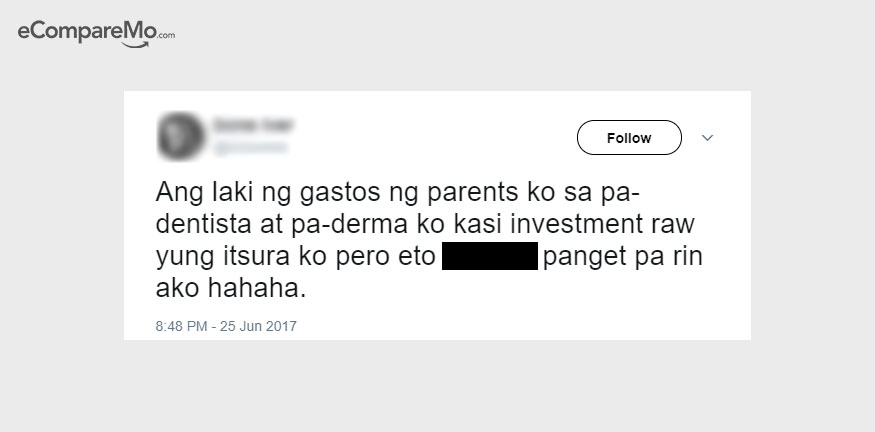 The struggle is real.
Tiis gwapo -braces!!

— Al (@alshahaff10) July 17, 2017
Oh how being pogi feels so real when your hands are on the wheel.
GWAPO KA PERO BINASTED KA? PATUNAY LANG YAN NA HINDI LAHAT TUMITINGIN SA ITSURA.DAPAT KASE MAY PERA AT KOTSE KA DIN.?

— Option (@_optionxx) May 3, 2017
"gusto ko sa lalaki may Car"

— marky (@deocampomarky) July 11, 2017
Flashing car keys won't cut it sometimes. Keys to a condo unit is additional "swag."
Welp, Hindi lang pala kotse ang basehan ng kagwapuhan, Kailangan na din pala ng condo ??? Taena

— Rajwinder Singhbal (@singhbalr) June 13, 2016
The complete Lover Boy Starter Pack:
Gwapo ka pero binasted ka? Patunay lang 'yan na hindi lahat ng babae bumabase sa itsura. Dapat may iPhone, Condo at Kotse ka rin.?

— memel?? (@RommelOrang2) March 4, 2017
In the end, confidence is your most important investment!
Sa mga tulad kong "hindi kagwapuhan" pero may "sense of humor". Kampai! We are the new pogi! ??

Tara na, nuod tayong "Kita kita"

See you!

— DCholo (@NarsCholo) July 24, 2017
pogi lang sila,we have the attitude bro! madali lang mag papogi basta may pera hahaha

— No.17?? (@Rymondscrmnto) November 10, 2016
But the truth is, none of these truly matter. Women still look for real love and loyalty.
Ang gusto ko lang naman sa isang lalaki MABAIT, LOYAL, higit sa lahat may RESPETO sa babae..

Kung wala kayo niyan… https://t.co/kLjAzC6jhG

— Jonalyn Carbonell Ho (@JonalynHo) June 8, 2017
42: Gusto ko sa lalaki yung tipong sumasakay sa lahat ng trip ko kumbaga boyfriend ko na sya bestfriend ko pa?

— Maria Lazaro?? (@ellasexyyyy) July 11, 2017
What do you think? Share your thoughts in the comments.
About the author
---