If you are a Philippine passport holder with big dreams of watching the California sunset or marveling at the New York skyline on the Empire State, you've probably been thinking about applying for a US Visa.
You also must've heard numerous horror stories about how a friend's application was denied by consuls. But all you really need to do to get your visa approved is gear yourself up with the facts.
Get ready to experience The Big Apple—your US visa application could be granted with these easy steps.
How to apply for a Business/Tourist Visa (B-1/B-2)
Bring these requirements
Completely filled-out Non-immigrant Visa Electronic Application Form or DS-160.
A valid passport for travel to the United States valid at least six months beyond the intended period of stay.
One 2×2 photo adherent to the photo requirements.
Receipt showing payment of $160 non-refundable visa application processing fee, paid in local currency.
Any of the following supporting documents:

Proof property or business ownership; or assets, if self-employed
Travel itinerary or other proof of your planned trip
Letter or certification from employer detailing your position, salary, years employed, authorized vacation
Payslip from the last three months
Certificate of Employment
Relative's proof of status residing in the US (Green card, naturalization certificate etc.)
Valid IDs (company, school ID)
Proof of previous US trips
Most recent bank, insurance and other financial statements
Income tax records
Proof of previous travels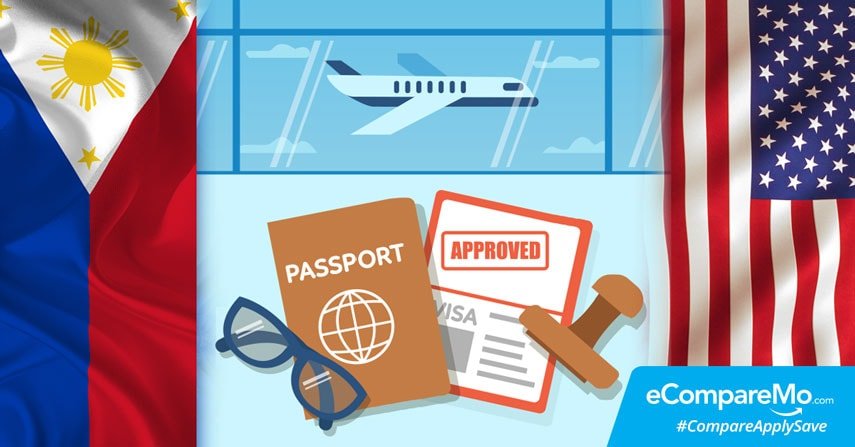 Follow these steps
Pay the visa application fee. You can pay through BPI or Bancnet online, or over the counter. Secure the deposit slip.
Complete the Nonimmigrant Visa Application form online and make a printed copy.
Schedule an appointment through this page. Prepare your passport number, MRV payment receipt number, 10-digit barcode number in the DS-160 confirmation page.
Go to the US Embassy Consulate on the date and time assigned to you for the interview. Bring the printed copy of your invitation later, printed DS-160 confirmation page, one recent photograph, current and old passports.
Tips and important notes to ace the US Visa interview
The interview is the most nerve-racking part. How you answer the consul will make or break the approval of your visa application approval.
You will be interrogated by US consuls so be sure that you communicate well in English. Avoid using slang as it is a formal interview. Make an impression that you can speak decent English language without having to refer to your dictionary.
Be honest about your real intention and present a good purpose of your visit.
Present solid proof that you will come back. Establish that you are only going to the US for a vacation and not as an illegal immigrant. Remember that they want to keep immigrant workers to a minimum these days.
Establish that you have a good financial standing and a stable source of income. They do not want extra mouths queuing for food stamps.
Take time to read more information on the official US Embassy website.
There's no dress code required but wear an attire that looks presentable. If you are a student, wear your school uniform. If you are an employee, wear your company uniform or professional attire.
Be polite and straightforward with your answers. Keep your answers concise and do not elaborate unless asked a follow-up question.
Do not volunteer any information or present documents if not asked by the consul or you will look desperate; this will only raise more suspicion. But ensure that you have the proper documents ready if in case they ask for proof.
Most important, do not present fake or tampered documents. The consuls have ways to verify information. Falsifying your documents may even cause you to be banned from applying ever again.
About the author
---